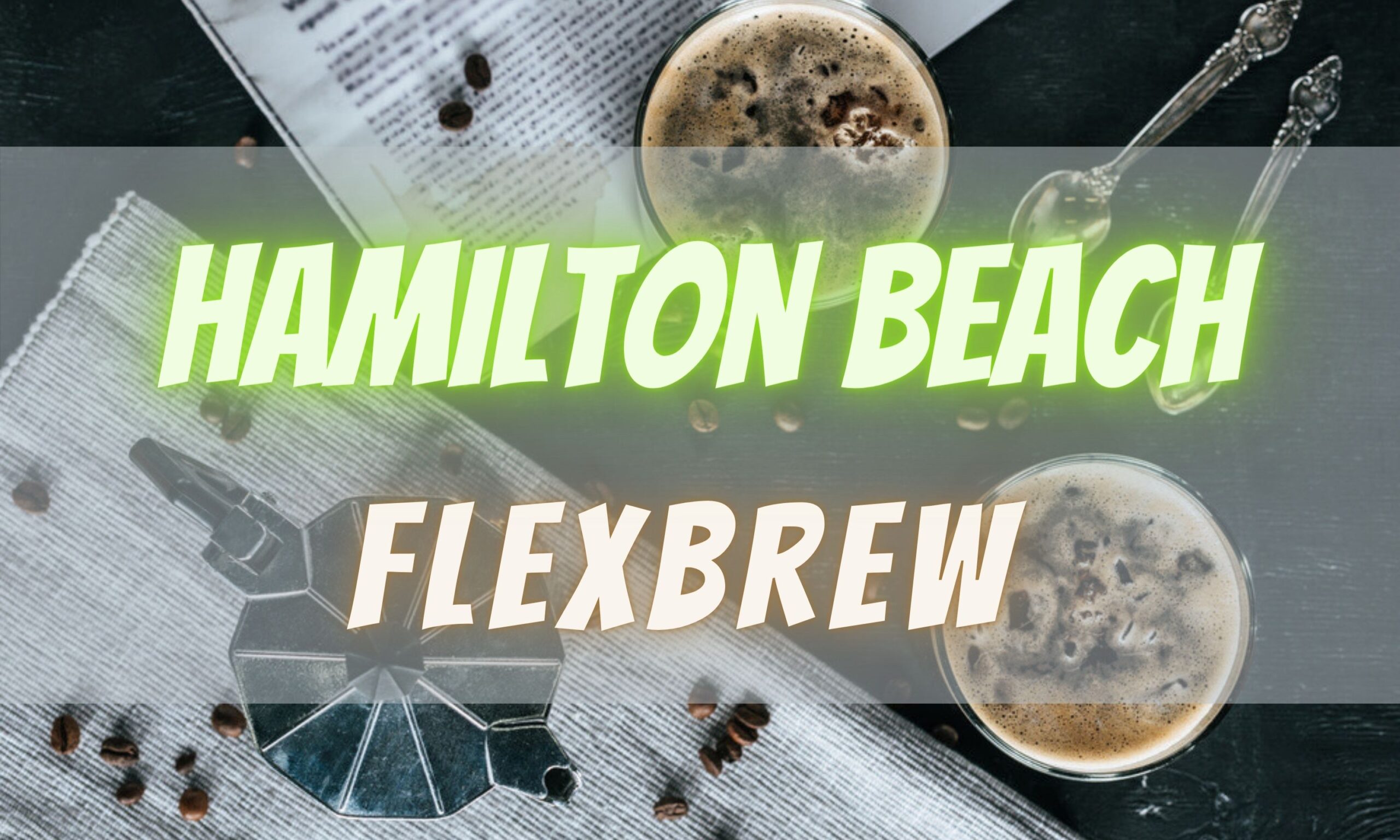 As an Amazon Associate, I earn from qualifying purchases.
A true coffee lover understands the need for two different coffee makers. When you want that flavorful drip coffee, you can use your carafe brewer. But on days when you're in a hurry, you find yourself gravitating towards k-cup pods instead. But what if we told you in this Hamilton Beach Flexbrew review that you can enjoy both types of brews with just a single machine? Yes, you read that right – it is possible to enjoy the benefits of both brewing options with just one coffee maker. And it comes in the form of the Hamilton Beach Flexbrew Coffee Maker.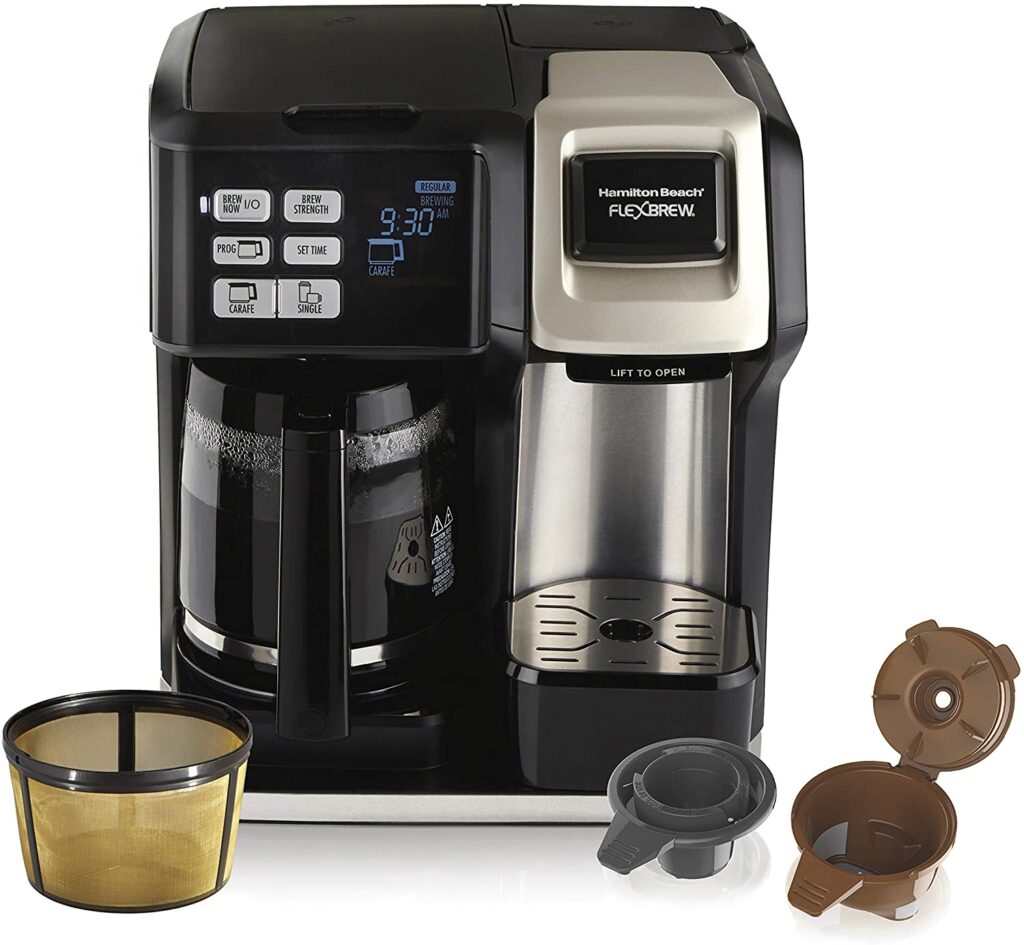 Looking through the many Hamilton Beach Flexbrew review, it seems that all of its users are satisfied with their purchase.
Nevertheless, we understand that some of you are still hesitant to buy one. This is why we decided to write our own review. We'll discuss all of its features as well as other informative bits to make sure that you make the right decision.
Coming from a renowned brand like Hamilton Beach, we expected so much from this coffee maker.
Users report frequent spillage when using the single brew option.
While it can keep your coffee warm for up to 2 hours, some users claim that this period is too short.
Hamilton Beach Flexbrew: 2-Way brew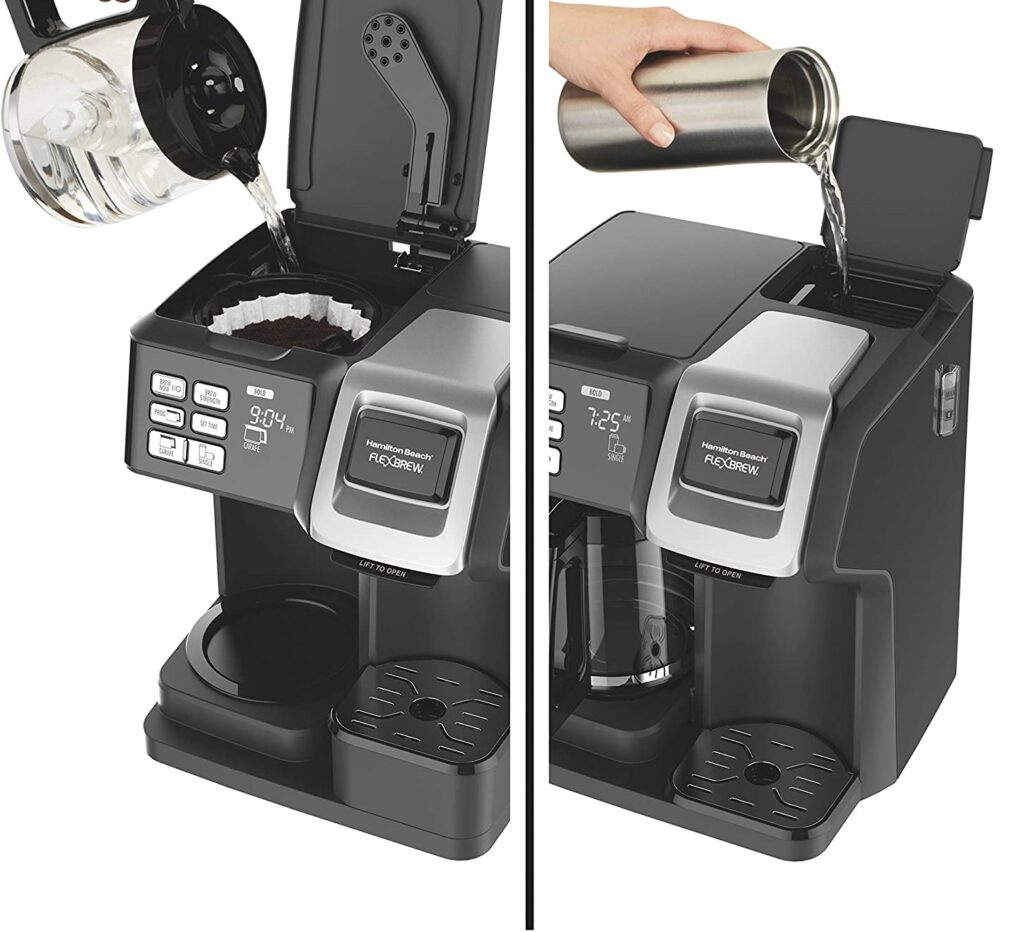 The most important feature of the Hamilton Beach Flexbrew Coffee Maker is the fact that it supports 2-way brewing. This simply means that it supports both carafe brewing and single-cup brewing.
With its carafe brewing option, you can make up to 12 cups of coffee in its large pot. This is ideal when you're having guests over or when you have a large family who loves their coffee.
But if you want to enjoy a fancy single-serve brew, the Hamilton Beach Coffee Maker also has that option. You can either use your own ground beans into the brew basket or pop in a coffee pod into the holder.
Since it allows 2-way brewing, it also comes with two separate reservoirs. Each reservoir has its own lid and water windows, so making refills won't be a problem.
Hamilton Beach Flexbrew Intuitive Control Panel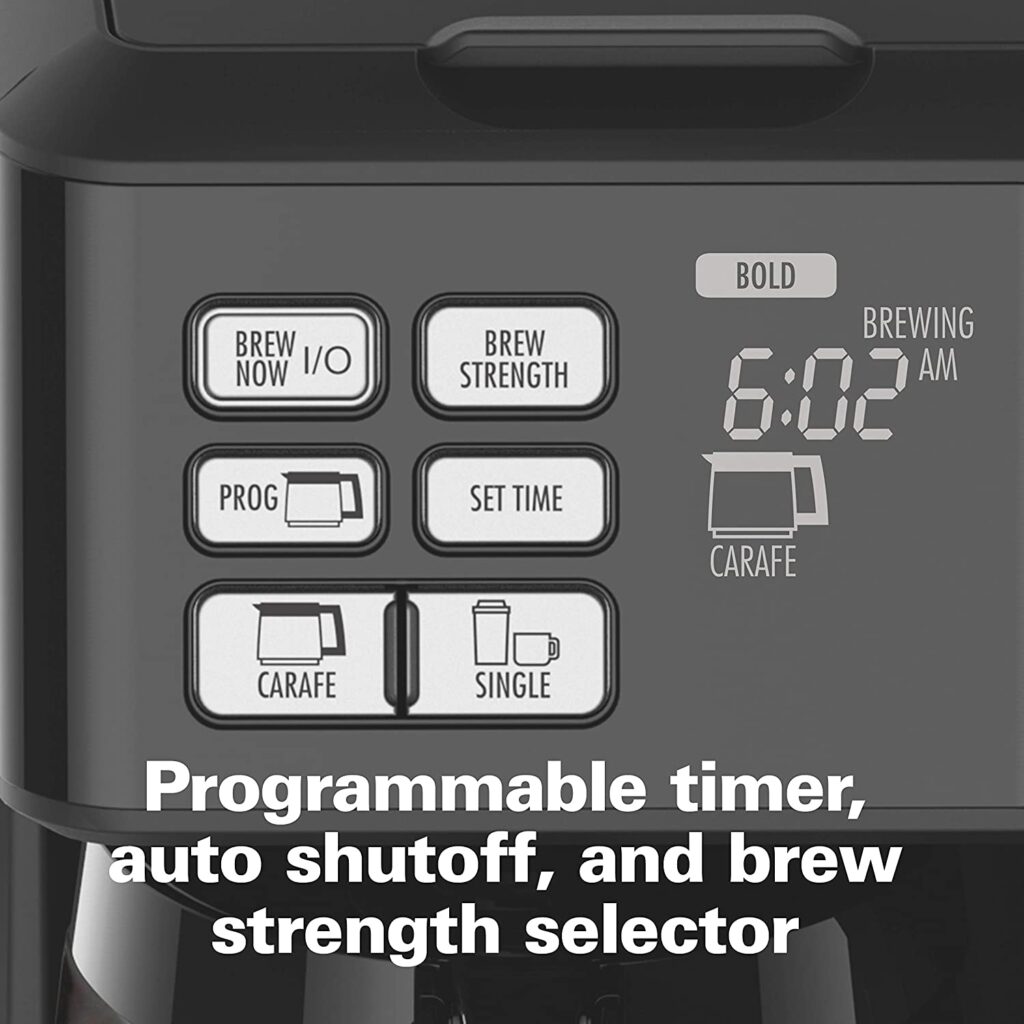 Another feature we loved about the Hamilton Beach Flexbrew Coffee Maker is its intuitive control panel.
While it contains state-of-the-art features, it is still easy to operate. You can easily set the timer, choose the brew strength of your choice, the program when you want it to brew in advance, and so much more.
Without a doubt, this coffee maker can make our lives so much easier.
Energy-Saving
One of the factors that are often overlooked when beginners buy a new coffee maker is how efficient it is when it comes to using electricity. You don't want a machine that eats up a lot of power because that will leave you with a shockingly high electric bill.
Fortunately, the Hamilton Beach Flexbrew was engineered with an energy-saving feature.
Since it has separate water reservoirs, it doesn't heat up all that water at the same time. If you're brewing with the full pot, then it only heats water from its particular reservoir. If you want a single brew, it only heats water from the single brew reservoir.
And save more energy, it only heats water when you're ready to brew. It doesn't continuously boil the water when you're not using it, and that saves you a lot on your electric bills.
Hamilton Beach Flexbrew Safety Feature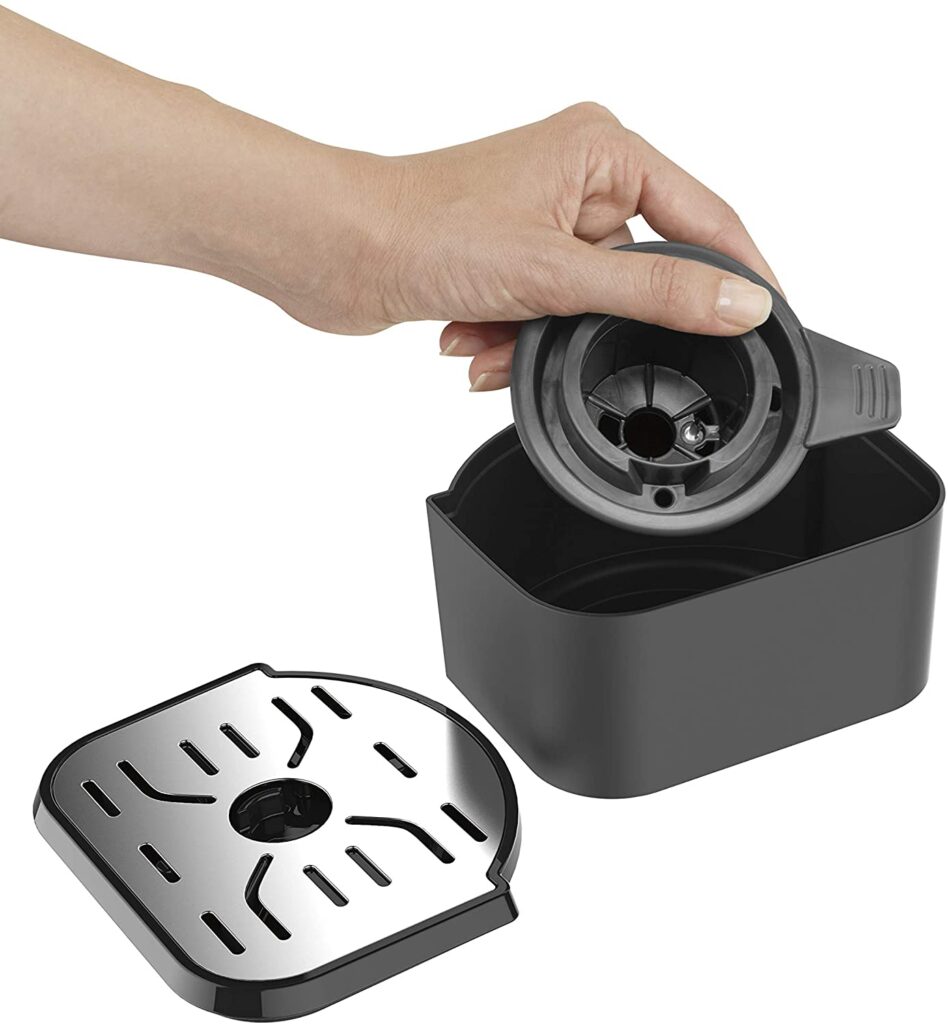 For our safety, the Hamilton Beach Flexbrew offers an automatic shut-off function after a few hours of inactivity. This gives you peace of mind during the days when you're in a hurry and unsure whether you turned off the coffee maker or not.
Also, the Flexbrew can detect when the pot is removed in place. When it's removed while in the middle of a brewing process, the system automatically pauses it for 20 seconds, leaving you with enough time to return the pot before it resumes brewing. This not only prevents a mess but also keeps your hands from being scalded.
Eco-Friendly
We also love that the Flexbrew has a permanent Gold Tone Filter. This reusable filter is easy to clean, and you can use it as many times as you want. This reduces the need for disposable paper filters, and thereby also reducing the harmful impact of its production on the environment.
Pros
Very easy to operate
The cup rest doubles as a convenient storage space.
Offers two ways to brew your coffee.
Very affordable.
Easy to clean.
The full pot can brew up to 12 cups of coffee.
Gold-Tone Filter is reusable.
Cons
Users report frequent spillage when using the single brew option.
While it can keep your coffee warm for up to 2 hours, some users claim that this period is too short.
Let's face a video review
Frequently ask Question: FAQs
What is the difference between carafe brewing and pod brewing?
Carafe brewing is the traditional way of brewing drip coffee into a large pot called the carafe. You have to scoop in the right amount of grounds into the basket and wait until coffee fills the pot. This is ideal when you're preparing coffee for several people.
On the other hand, pod brewing is best for single-serve brews. Each pod contains the predetermined amount for exactly one cup of coffee. And instead of picking the right beans to brew, a coffee pod already offers different roast flavors to suit your changing taste.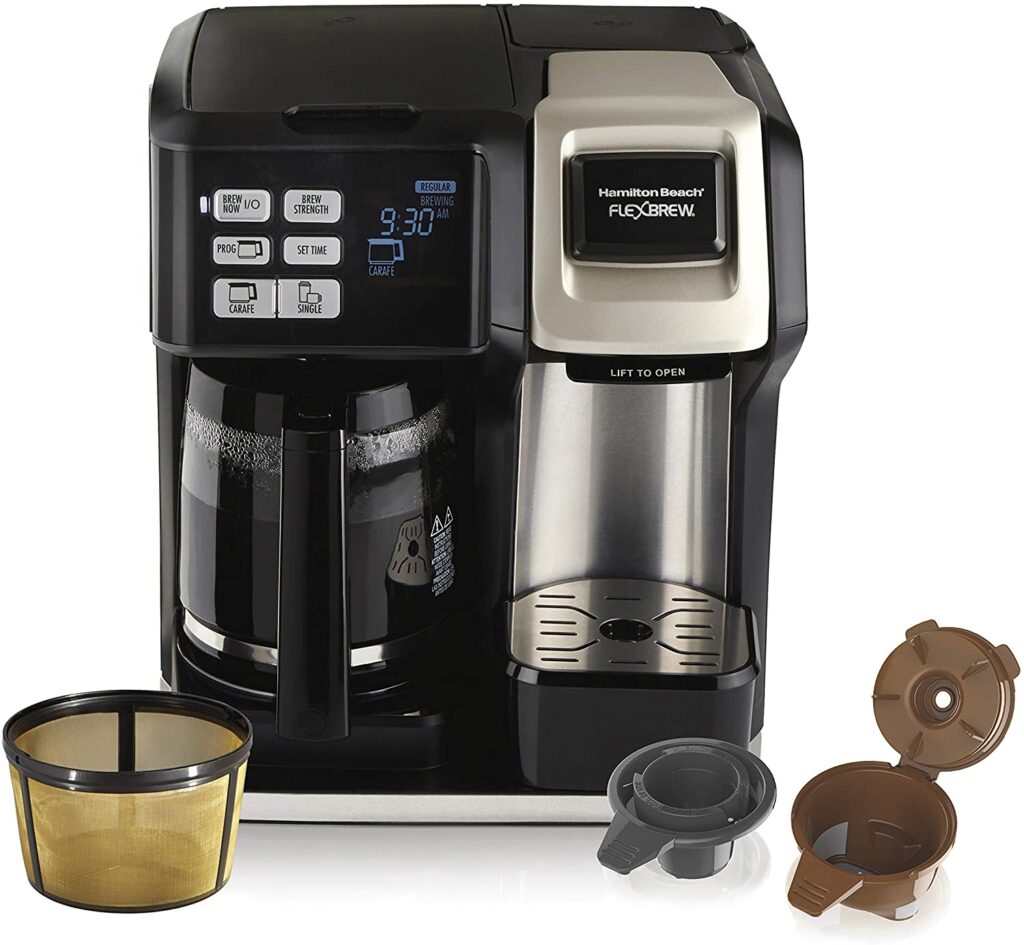 What is a K-cup pod?
A K-cup pod is a capsule containing enough coffee for single brewing. These pods offer a variety of flavors, giving you premium cafe-quality coffee from your home. You simply pop it in a pod-compatible coffee maker and wait for your favorite brew within minutes.
How tall should the mug be to fit over the single-brew cup rest?
The Hamilton Beach Flexbrew is tall enough to fit cups or mugs up to 7 inches tall. It can easily fit the standard travel tumbler, so you can enjoy your freshly-brewed coffee on the go.
Final Words
For its versatility and style, it's no wonder why Hamilton Beach Flexbrew's review is always so positive.
While its futuristic style may seem intimidating, we were amazed by how easy it was to operate. It also had labeled buttons, so programming it for your perfect brew won't take so long.
Surprisingly, it's also easy to clean. Without a doubt, it was truly designed with our convenience in mind.
All things considered, this coffee maker is a rare gem that's worth the investment. Whether you're a drip coffee aficionado or a k-cup pod fan, you'll enjoy brewing both ways with the Hamilton Beach Flexbrew.