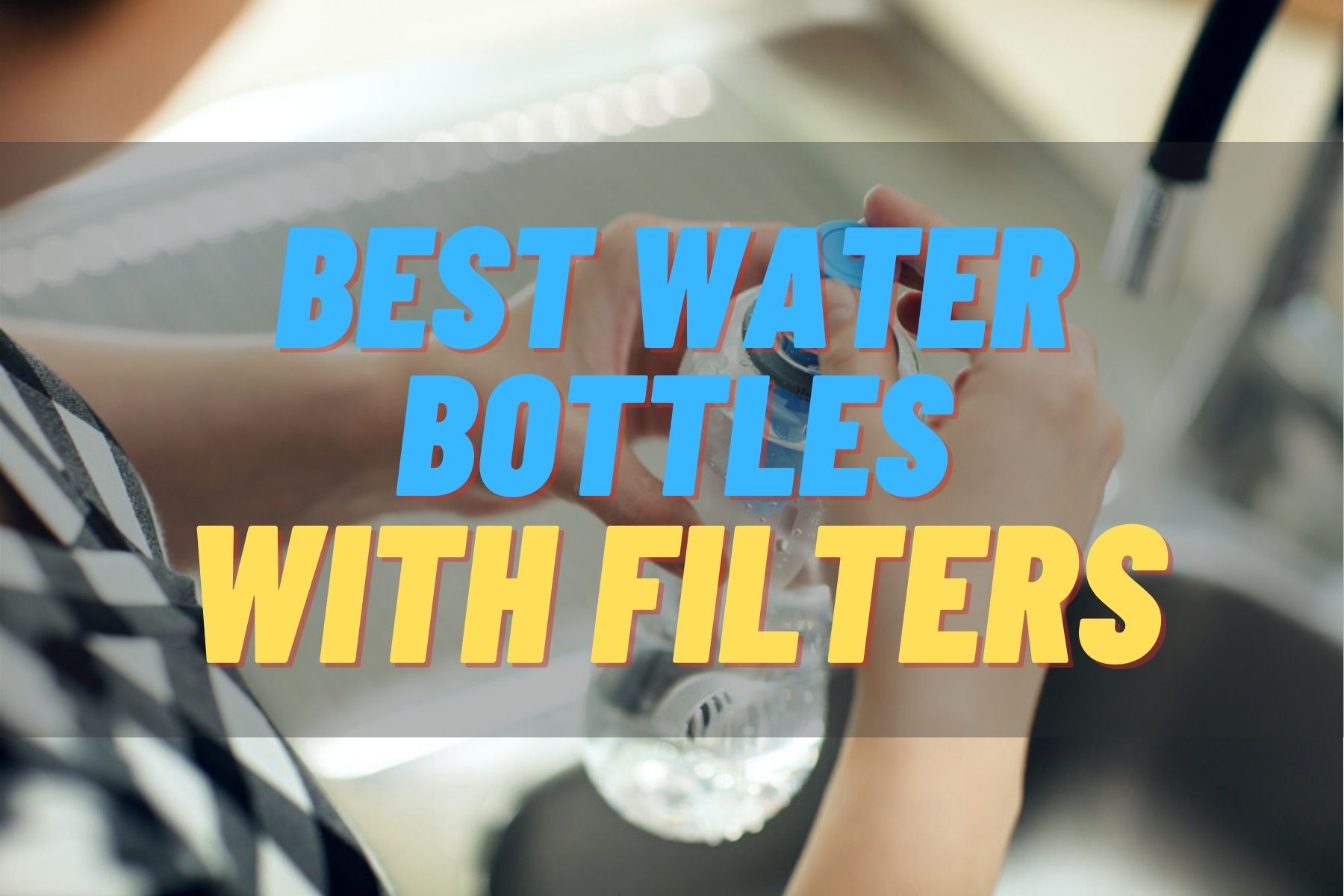 Unfiltered water contains many bacteria that can lead to water-borne diseases. However, it's also not feasible to filter the water when you're on the go. However, the best water bottles with filters will let you enjoy fresh and clean water wherever you are. There are tons of different brands and types of filtered water bottles on the market. Does that mean you need to drink unfiltered filthy water? Well, not when you have a water bottle with a filter with you.
Top Picks for Best Water Bottles with Filters

The LifeStraw Go has been developed to have a specific use only. It provides filtered water on the go. The bottle is designed with a filtration system that's strongly integrated and has a straw to make it drinkable in an easier manner.
What makes it unique is that the bottle provides good quality water regardless of the location. It's claimed by the manufacturer regarding the filtered water in the bottle that it can take from any source quite safely.
The LifeStraw Go water filter bottle comes in a cool blue color and in general, is a bottle that has high durability. This bottle is known to be a plastic bottle that is completely BPA-free. It has passed all testing periods without any damage done.
Moreover, it's not insanely expensive as it only cost 36 dollars. It can even be quite useful during short-term hiking activities where you can refill the water easily. So, if you want filtered water on an everyday basis, then this water filter bottle can indeed be a great one.
Pros
Improves water taste
Protects against bacteria
Long-lasting
Lab-tested
Cons
Not recommended for any other kind of drink

The Brita is a premium filtering water bottle that's very easy to use. It's a water bottle known to have a premium element for anyone who would drink water in it. This water bottle provides filtered water anywhere we want to go.
The best thing is that it reduces the level of chlorine for odor and taste which we find in tap water. It's sleek and has a premium size of 26 ounces that enables everyone to enjoy the filtered water at home, the workplace, or even at a sporting event.
This water bottle is quite affordable with a price of just 19 dollars. It's very durable as it has a hard side plastic along with being BPA-free and an enclosed straw. The filtering bottle can provide easy hydration at any place or location.
Another interesting feature is that the filtering water bottle can certainly be cleaned in a dishwasher and is completely safe in this regard. To achieve the best results, the filter must be replaced after 40 gallons of water or after 2 months.
Pros
Convenient hydration
Great tasting water
Dishwasher safe
Leak-proof lid
Cons
No replacement mouthpiece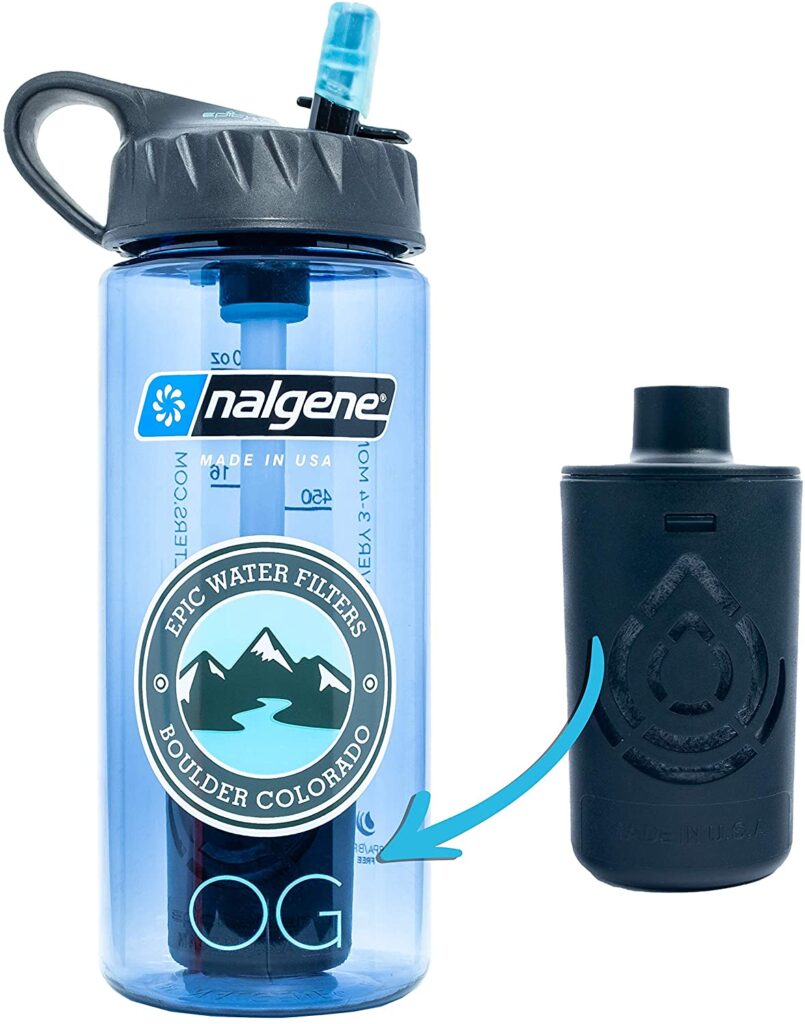 The Epic Nalgene OG water filtration bottle allows you to stay hydrated and drink great-tasting water. The water you drink is always safe with this filter water bottle.
This water bottle with a filter uses depth and absorption filtration to achieve one micro contaminant removal. It uses an activated carbon filter to remove contaminants from water. Its 6 millimeters thick depth filtration helps to remove up to 99.99 percent of all tap water contaminants through the millions of layers of coconut carbon fiber.
It's made from BPA/BPS-free Tritan plastic and the organic coconut shell-based carbon-fiber mesh filter is an environment-friendly filtration media approved by NSF/ANSI standards. Its material is 100 percent replaceable and recyclable.
The disadvantage of this water bottle is that it's slightly leaky and doesn't empty properly. Moreover, the Nalgene OG filter replaces 550 single-use plastic water bottles to help you play your part in saving the environment.
Overall, with extreme versatility, the Epic Nalgene OG water filtration bottle is going to provide the best value for money for you.
Pros
Easy to clean
Replaceable and recyclable
Easy to clean
Great water flow
BPA/BPS-free
Cons
Slightly leaky and doesn't empty entirely

The Thermoflask bottle is undoubtedly one of the best water bottles with filters on the market. It has a sleek sturdy look and it's available in 5 different colors. It also comes in 5 different sizes ranging from 18oz to 64oz.
The bottle has vacuum insulation that helps to retain cold temperature up to 24-hours and hot up to 120hours. It's made with top-quality 18/8 food-grade stainless steel. It doesn't contain any BPA and it's free of toxins. It has a double-wall construction that prevents it from sweating and helps to retain the beverage's temperature.
You'll get both chug and straw leakproof straw with the bottle. The wide mouth enables it to be easily cleaned and also works great for putting ice inside the bottle. The lip has a handle that enables you to easily carry it around without any hassle.
Pros
Sturdy design and construction
Stainless steel design
Leakproof straw
Available in multiple colors and sizes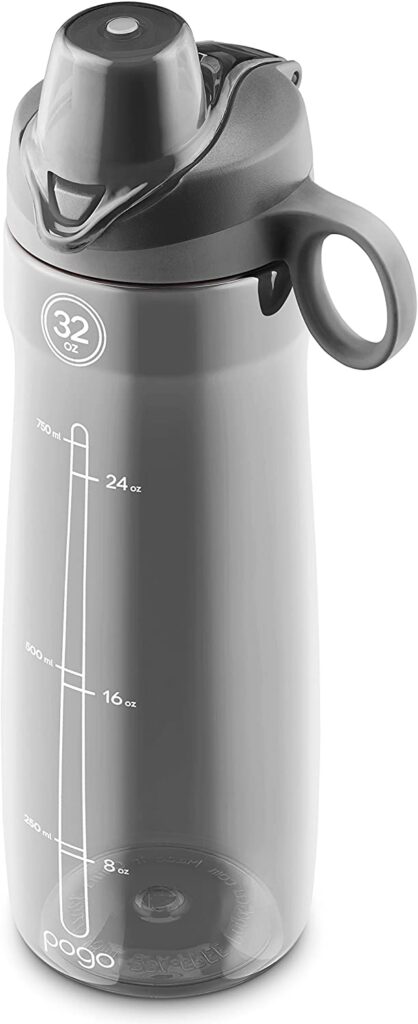 Are you looking for a high-quality water bottle at a super budget-friendly price? Well, look no further, this baby is the one for you. It has a large size with a whopping 32oz capacity. It has a decent-sized chug-style lid so that you can easily drink water when you're on the move or in a rush.
The bottle is made with BPA-free material and it's free of phthalates, lead, PVC, and cadmium. The design of the bottle is quite sturdy and it's built to last for a long time. It has a wide opening so that you can easily clean it up and put ice cubes in it.
The Pogo Water Bottle comes in three different colors: red, blue, and violet. The large size of the bottle might be a bit of a hassle to carry around or fit in a bag. However, if you're going out for the whole day then this is the perfect bottle to keep you hydrated and refreshed throughout the day.
Pros
BPA-free material
Free of PVC, cadmium, and phthalates
Durable construction
Budget-friendly
Available in three colors
Cons
Available in only one size
6. Brita 23.7 Ounce Hard Sided Water Bottle

We have got another awesome filtered water bottle that has a simple outlook with top-notch performance. This baby will rehydrate you when you're on the go or have a hard time finding purified filtered water.
The bottle is made with BPA-free plastic that's highly durable and long-lasting. It has a built-in carrying loop that makes it super easy to carry around. Also, it comes in the standard 16.9oz size that easily fits inside the bag and most car cupholders.
It has a simple design with a flip-open straw that lets you easily open up the bottle without any struggle. The filter effectively removes the taste of chlorine and makes the water better tasting. The filter needs to be replaced after 40-gallons of water that will last you around 2-months.
Washing the bottle can be a hectic chore but thanks to the solid build quality of this bottle, it's top dishwasher safe. However, you can also wash it manually if you want to. The bottle also comes with an instruction guidebook to help you out with your queries. Overall, this is undoubted one of the best water bottles with filters in the market.
Pros
Easy sip straw and carrying loop
Durable BPA free construction
One filter lasts for 40-gallons of water
Dishwasher safe (top rack)
Cons
Available in only one color

Takeya incorporated 55 years of innovative Japanese technology in this little bottle of goodness. The bottle is made with BPA-free food-grade material with double-wall insulation.
The innovative lid design lets you sip or chug without splashing on your clothes. The spout lid enables easy functioning and pouring using just one hand. There's also a hinge lock that keeps the cap away while you're drinking.
The bottle is available in five different sizes and myriads of different colors. The outer layer is constructed with stainless steel that has a leak-proof design. The bottle can keep the beverage ice-cold up to 24-hours and hot up to 12-hours. You can put ice cubes or pour flaming hot water, the quality of the bottle will remain the same.
The food-grade stainless steel construction ensures no alteration in the flavor of your drink. The rust-resistant construction ensures no changes in the quality of the bottle even after years of use. It also has a double-treated powder coat on the outside for extra durability and grip.
Pros
Retains the temperature well
Wide loop handle for easy carrying
Twist cap lock
Limited lifetime warranty
BPA-free material
Wide mouth opening for easy cleaning
Cons
No filtering option inside the bottle
Buying Guide
Finding the best water bottles with filters is not an easy task as there are tons of options available out there. These are some of the important factors that you should consider before making the final purchase.
Bottle size
Water bottles are available in various sizes; however, the standard capacity for holding water is 20 ounces. Some bottles are bigger or smaller than this, but it's important to consider whether they're suitable enough to take with you on the go and whether they can provide enough sufficiency to offer you enough water at a time.
Best Water Bottle with filters material
If you want your filtered water bottle to last for a long course of time, you must make sure whether the quality of the material is good or bad. In that case, we recommend you to look for bottles that are strong and made with BPA-free plastic. They don't have the chance to break or bend so easily after a short time.
You can also go for stainless steel bottles as an alternative option. They're also quite durable to handle damages. However, they're quite heavy. If you want the bottle to be a little bit light for easy carrying, then it's best to go for the plastic ones.
Budget
Like all water filtration products, the price of a filtered water bottle varies significantly from one product to another. Generally, a water bottle with a filter costs around $30 to $40. So, you don't have to worry about stretching your budget long enough to get a well-quality based filtered water bottle.
Type of Filter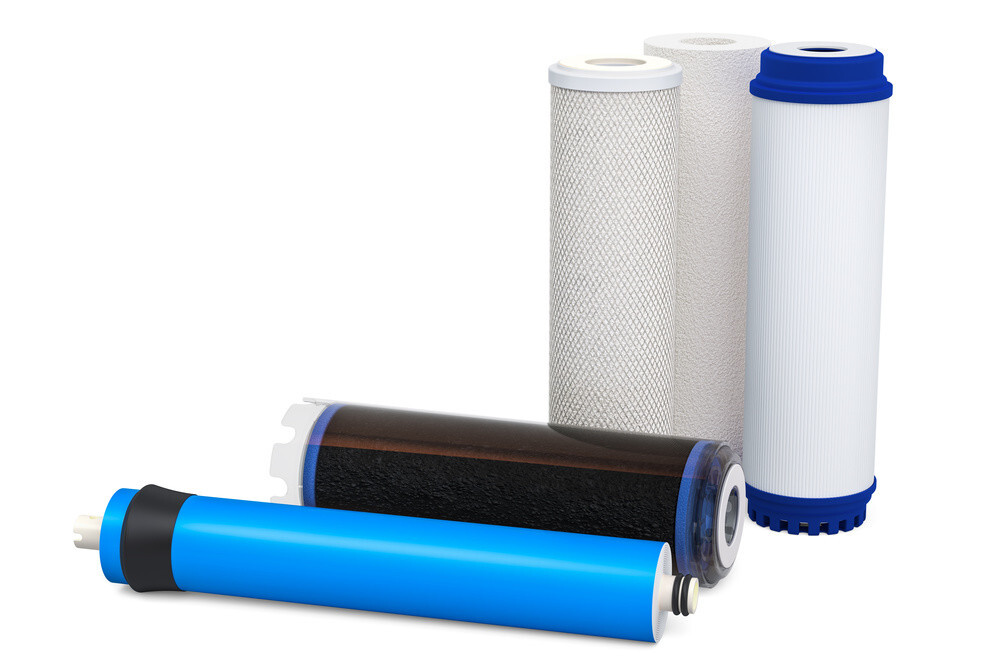 Water filtration bottles are usually equipped with 3 different types of filters; carbon activated filter, UV filter, and carbon activated-UV filter.
Moreover, Carbon activated filter: Most of the water filtration bottles are equipped with a carbon activated filter. Bottles with this type of filter are capable of trapping the impurities from water in the filter media. They were really quite cheap.
UV-filter: Water filtration bottles that feature a UV filter fall in the middle of cheap and expensive. They require batteries for proper operation. Although, They're perfect at removing viruses from your water.
They have the ability to act as clean, chemical-free water sterilizers. The only setback with this kind of filter is that it isn't completely effective at removing chemical compounds that reside in the water; like chlorine and fluorine.
Carbon activated-UV filter: This type of filter refers to the combination of UV filters and carbon activated filters in one. Although this type of filter is the most expensive purchase of all, it's indeed capable of providing the most thorough purifying process for your water.
What you want to be Filtered Out
While most of the filtered water bottles incorporate the same carbon-activated filter media, not all of them have the same ability to filter out the same contaminants.
The best water bottles with filters are generally capable of removing chemicals such as chlorine, copper, fluoride, etc. from your water and improving its taste and odor at a minimum rate. It's also quite common for them to vanquish parasites, bacteria, and viruses from drinking water.
So, if you're drinking water from a source like a stream or a river, you should look for these filtered water bottles.
Brand Reputation
When it's a matter of the safety of your drinking water, you would obviously want to ensure not to cut any corners. In order to avoid doing that, you must search for bottles that belong to very trusted brands in the industry. Filtered water bottles of these brands stand behind them and have quite the reputation of backing up their claims efficiently.
Advantages of Drinking Filtered Water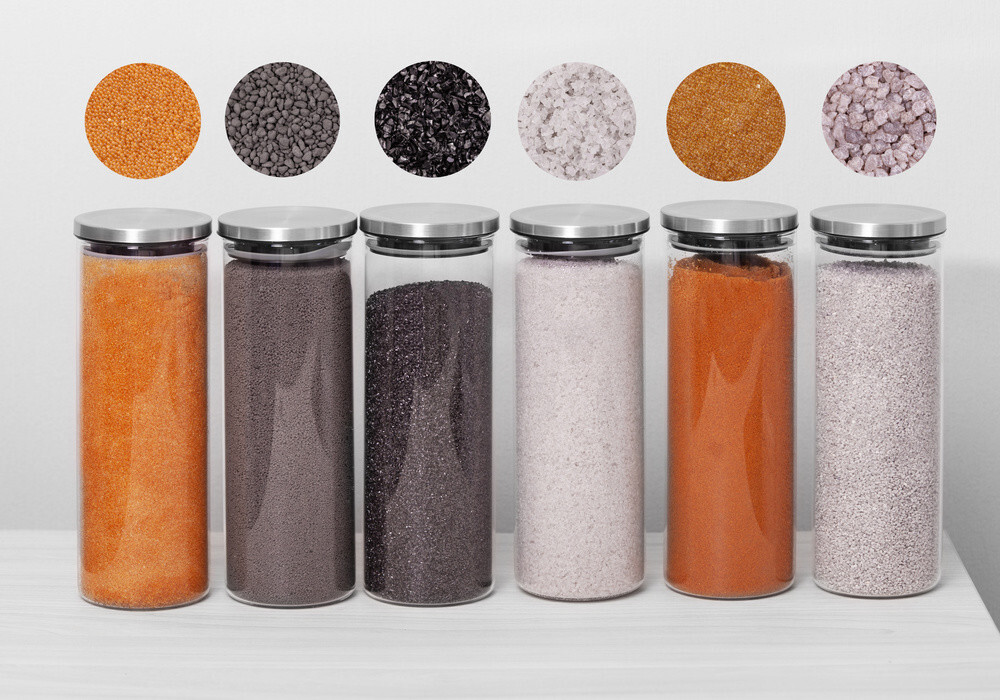 If you're skeptical about spending some extra cash on the best water bottles with filters then this part of the article is specially catered towards you. There are tons of benefits to drinking filtered water. They have many proven health benefits which make them worthy of the investment.
Best water filter With Filters: Enhances Immunity
Tap water contains many bacteria that can hamper your immunity system. The filtration process eliminates the presence of those harmful substances and boosts your immunity. This feature is more essential for children whose systems are still developing. The filtered water helps to nourish their system and fight against diseases.
Removes Fluoride and Chloride
we can use Fluoride and chloride by the municipals to remove the contaminants from water. These elements are not harmful to the human body, however, if they consume in excessive amounts, they can have severe reactions and after-effects.
However, excessive consumption of chlorine and chlorine-by products can lead to colon cancer, rectal cancer, and bladder cancer. Filtering the water will remove these harmful chemicals from the water and leave you with safe drinking water.
Speeds up Metabolism
Metabolism is a vital process for the proper functioning of the body and filtered water helps to speed up this process. Filtered water helps to promote the absorption of vital nutrients, thus, improving the metabolism rate. Also, a better metabolism rate will help you to lose weight and ensure the proper functioning of the body.
Best water filter With Filters: Improves Skin Texture
Although, Beauty gurus around the world advise drinking a generous portion of water on a daily basis. Water helps to detoxify and remove impurities from the body. Filtered water helps to get rid of harmful toxins and chemicals that are stored in the body. Of Course, You should always consume an ample amount of filtered water to keep your skin glowing and rejuvenated.
Adds Minerals
Many filters not only remove the contaminants from the water but also help to retain the minerals in the water. High-quality water filters even add healthy minerals to the water that are helpful for our health.
Benefits of Filtered Water Bottles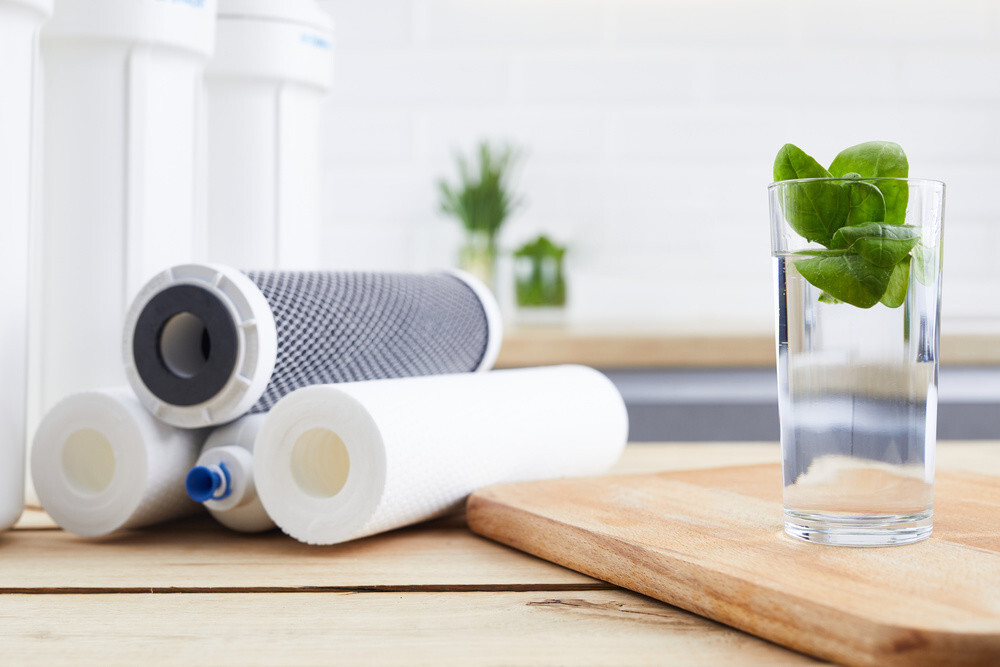 Filtered water bottles are a sustainable solution that helps you stay hydrated and keep up your energy levels when you don't have sufficient access to purified water. They have tons of benefits that will let you follow a healthy lifestyle.
Portability
One of the best features of a filtered water bottle is that it's highly portable and you can carry it everywhere with you. Whether you're going to the gym or hiking in a remote area, this baby will keep you hydrated all the time. They generally come as a standard bottle size that easily fits inside a handbag or a backpack.
Cost-Efficient
Having the best water bottles with filters eliminates the need to regularly buy bottled water when you're outside. The initial cost of buying the water bottle may be more. However, if you add up your overall expenditure on bottled water, then the sum will be a lot more than you spend on the filtered water bottle.
Remove Harmful Chemicals and Contaminants
The filtration process all the harmful chemicals and contaminants that are present in unfiltered water. Even if accustomed to drinking tap water, we recommend you filter the water bottle ASAP as those contaminants can have a severe reaction on your health in the long run.
Sustainable
As sensible citizens of the world, we should always opt for sustainable sources to make this world a better place. The growing rate of plastic usage incurs serious risks as plastic is not biodegradable. Even if we recycle plastic, it will eventually end up polluting the environment.
Filtered water bottles have durable construction and most of them will last you for several years. They are an environment-friendly solution as you don't have to buy bottled water frequently.
Best water filter With Filters: FAQ
Do filtered water bottles really work as they claim?
Ans: Yes, they really work as they claim. You can consider filtered water bottles as smaller water filter pitchers. also, They're mostly equipped with advanced technology. Thanks to this technology, they're portable enough for traveling and can remove dangerous pollutants, chemicals, toxins, bacteria, viruses.
Are filtered water bottles safe to use?
Ans: Yes, they are. As long as you're able to replace them according to the specifications, you can expect them to be safe for use. Though these bottles include hi-tech systems, they only work for as long as you take great care of them.
Is filtered water better than bottled water?
Ans: Yes, they're, in fact, greater than bottled water. Most of the time, bottled water is just tap water that went through an artificial stage of filtration. On the other hand, water bottle filters have this awesome ability to remove harmful contaminants, pollutants, heavy metals, and microorganisms from your drink. Overall, it's best to consume filtered water instead of tap water or bottled water if you want to lead a healthy life.
Can you take a filtered water bottle on the go?
Ans: No, in fact, it's not even advisable to do. Most of the products have filters that need to be rinsed before they're being used, regardless of what kind of material was used to make them or whatever their intended purpose is. Some of them even will require you to have the first 5-8 sips of the water spit out.
When should I change the filter of my bottle?
Ans: If your drinking water feels filthy to you or if you realize that it has got its bad taste back, then it's high time you changed the filter of your battle. Otherwise, you'd be risking your health continuously by drinking this contaminated, impure water.
if you are interested to know more about more from our blog, read another similar post. Click here…
Final Thoughts
It's essential to drink at least 2-liters of water every day. However, we don't have a proper filtered water source around us all the time. Having a bottle with a filter will enable you to enjoy clean drinking water and stay hydrated.
We have picked up the best water bottles with filters to ensure optimum safety and freshness. They'll help you maintain a healthy lifestyle routine. Make sure you drink plenty of water throughout the day to keep yourself healthy and well-hydrated.