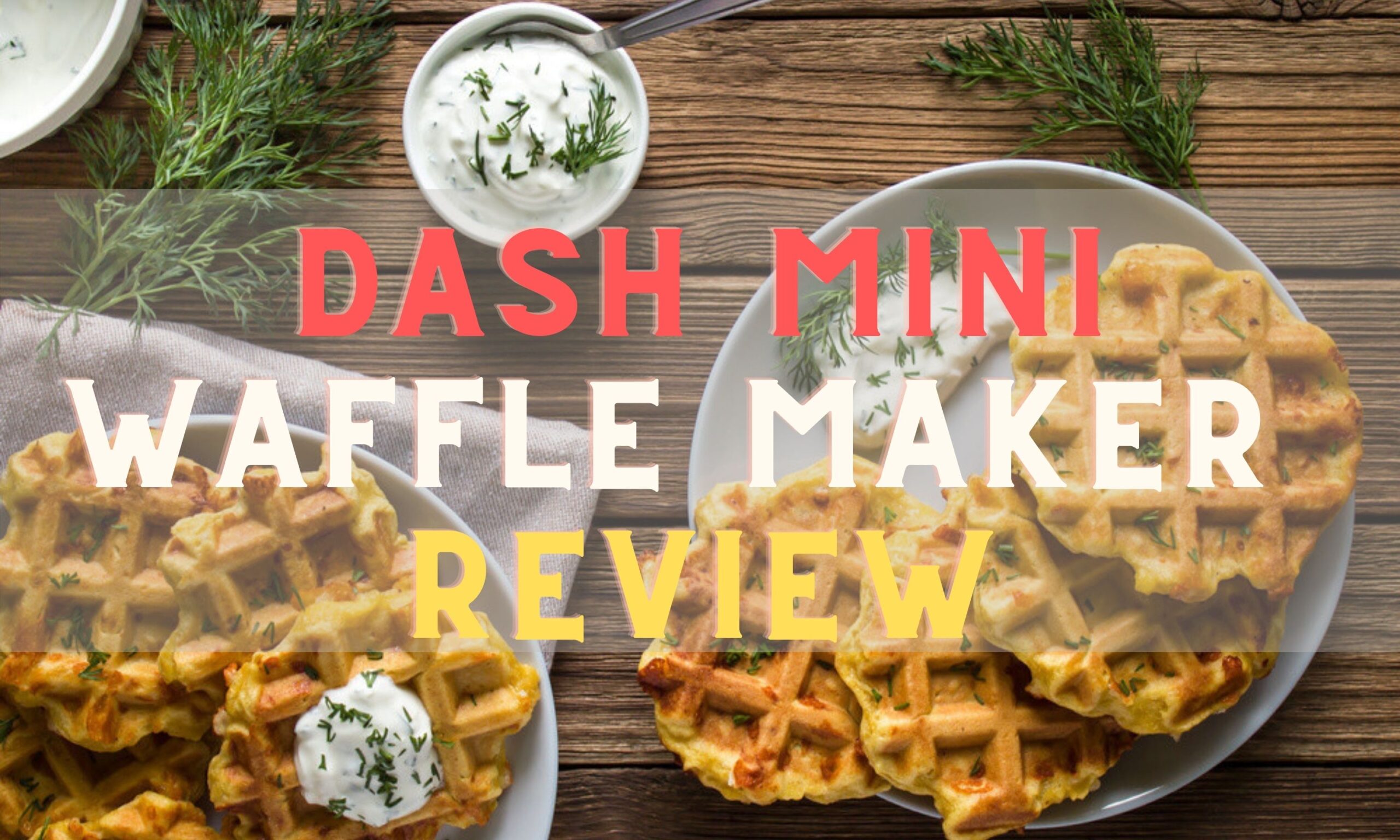 As an Amazon Associate, I earn from qualifying purchases.
If you're looking for a space-saving and affordable waffle maker, then the Dash Mini Waffle Maker is perfect for you. It offers convenient features that are sure to take your waffle-making to the next level. In this Dash Mini Waffle Maker Review, we will narrow down and discuss all of its key features and tell you whether it's worth the money.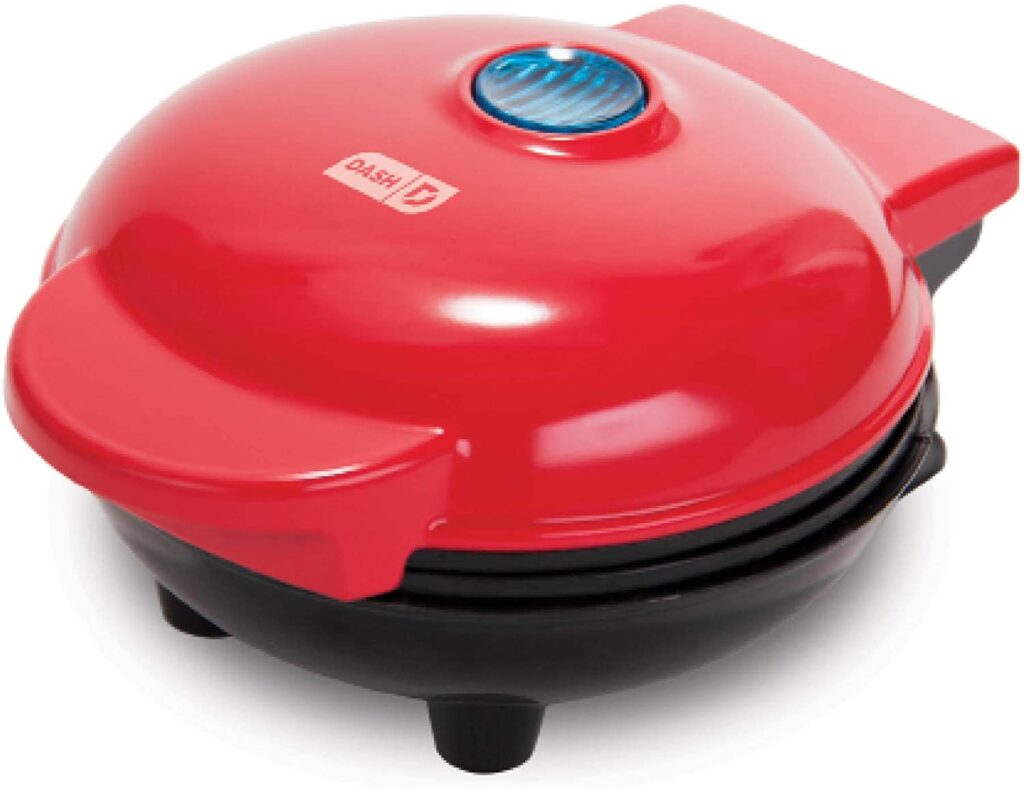 The Dash Mini Waffle Maker has a compact yet eye-catching design that will surely get you excited to make waffles. You can also choose from 19 bright and fun styles that can help lift the mood.
But aside from its colorful aesthetic, this compact waffle maker has so much more to offer.
Pros
Very affordable.
Lightweight and compact.
Can easily make 4-inch waffles.
You have 19 fun colors and designs to choose from.
Easy to use.
Cons
Does not offer temperature settings.
It is not convenient if you plan to cook for many people.
Dash Mini Waffle Maker: Easy to Use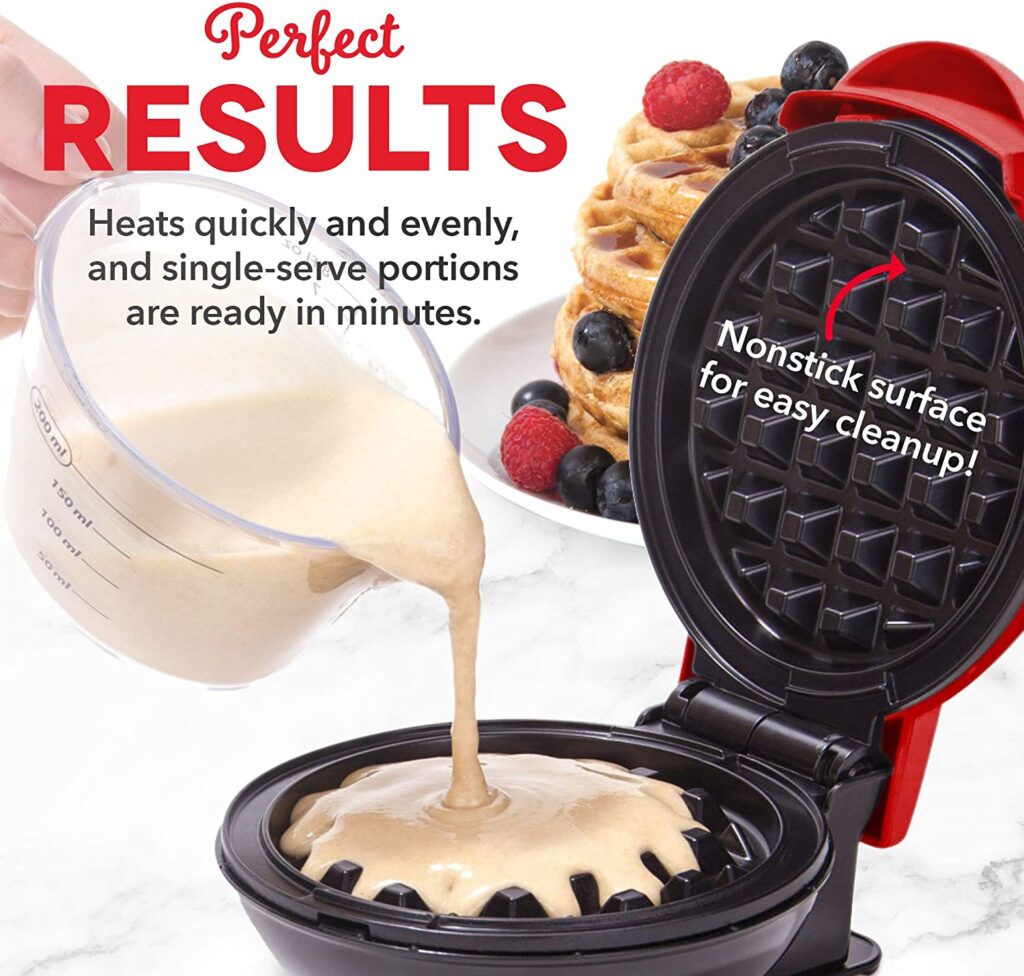 First, it is one of the easiest waffle makers we've ever used.
The moment you plug it in, the indicator light turns on. This signifies that it's already preheating the waffle plates for you. Once the indicator light turns off, it means that the plates are ready so you can begin pouring the batter and cover it to cook.
And that's it – within 4 to 6 minutes, your waffle is ready. It now depends on the texture you want for your waffles.
If you're someone who's always on the go, this waffle maker is your best breakfast companion.
Easy to Clean
We also love how easy it is to clean. The Dash Mini Waffle Maker is made with a non-stick surface, so you don't need to be worried about waffle bits sticking to it. even if there will be some bits that stick to it, you can easily wipe it clean with a piece of cloth.
Portable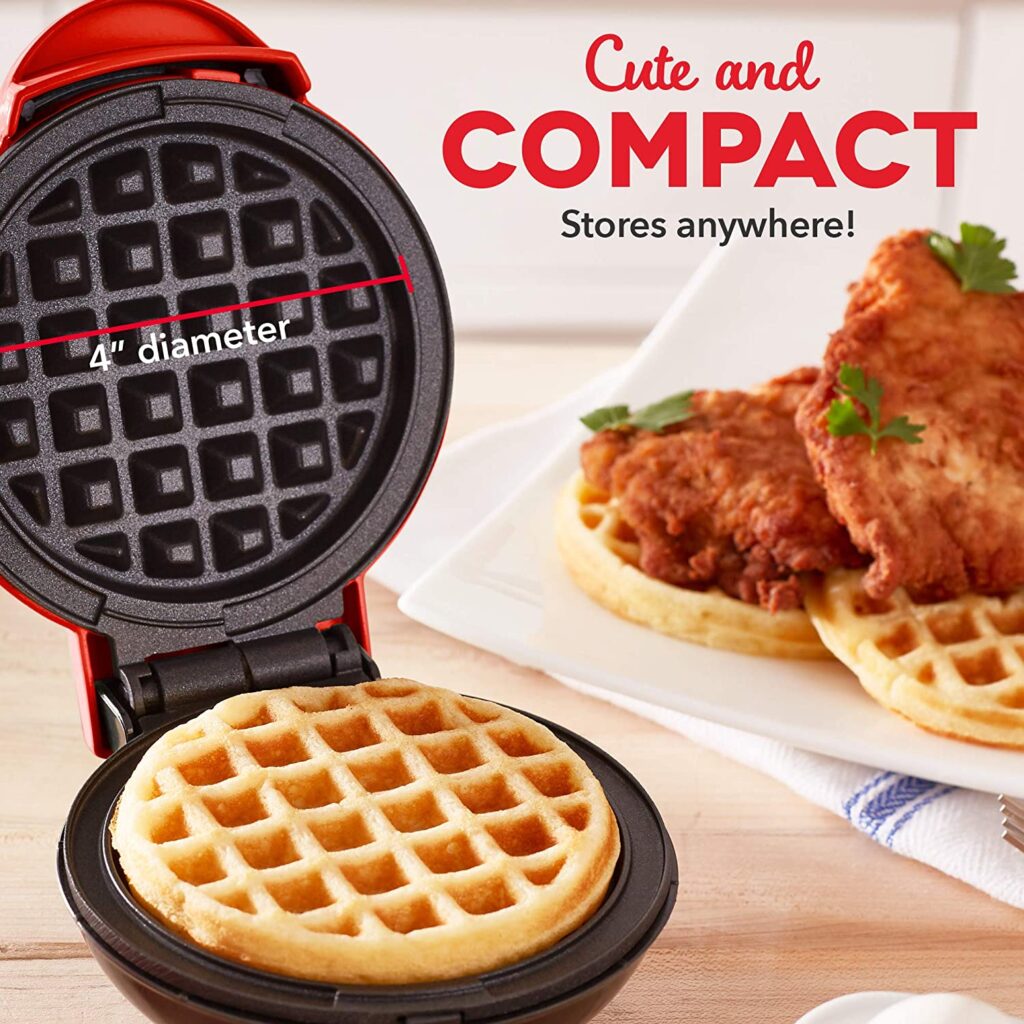 Thirdly and Most importantly, the Dash Mini Waffle Maker is highly portable. It has compact dimensions of 5 inches wide, 6 inches from front to back, 2.8 inches tall, and only weighs a little over 1 pound. These dimensions allow you to take it with you everywhere – whether in your office or your dorm room.
Finally, This feature makes it perfect for anyone who wants to enjoy healthy and delicious waffles from virtually anywhere.
Frequently Ask Questions: FAQs
How long does the Dash Mini Waffle Maker take to cook a waffle?
Dash Mini Waffle Maker can easily cook your waffles. Depending on how you want your waffles to be, it can be cooked within 4 to 6 minutes, offering you textures ranging from fluffy to crunchy crusts.
Is the Dash Mini Waffle Maker dishwasher-friendly?
No. The Dash Mini Waffle Maker is not dishwasher-friendly. It is recommended to clean it with a cloth or sponge that's soaked in dishwashing soap, then rinse them with a clean cloth or sponge.
Are the waffle plates replaceable?
No. The waffle plates on the Dash Mini Waffle Maker cannot be removed or replaced. It comes with the standard waffle-pattern plates, but the brand also offers other mini waffle makers with different patterns on the plates.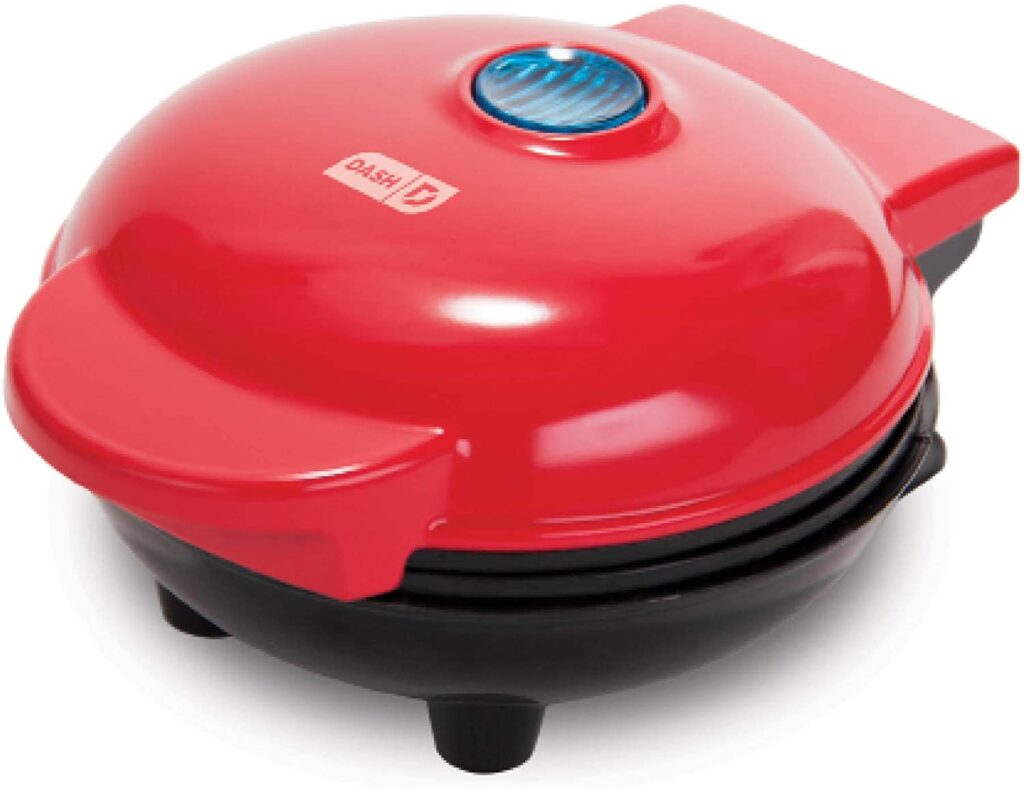 Final Thoughts
The Dash Mini Waffle Maker is a great product for anyone who loves making their own waffles.
Moreover, It has a compact design that won't take up too much space on your countertop, making it perfect for small kitchens, dorm rooms, or office pantries. It's also really easy to use, so you can already enjoy your fresh batch of waffles within just a few minutes.
While the Dash Mini Waffle Maker may feel limiting for home cooks who prefer more cooking versatility, we can't really complain considering its price.
All things considered, we'll end this Dash Mini Waffle Maker Review on a positive note. If you're looking for a no-fuss and compact waffle maker, then this is your best bet.