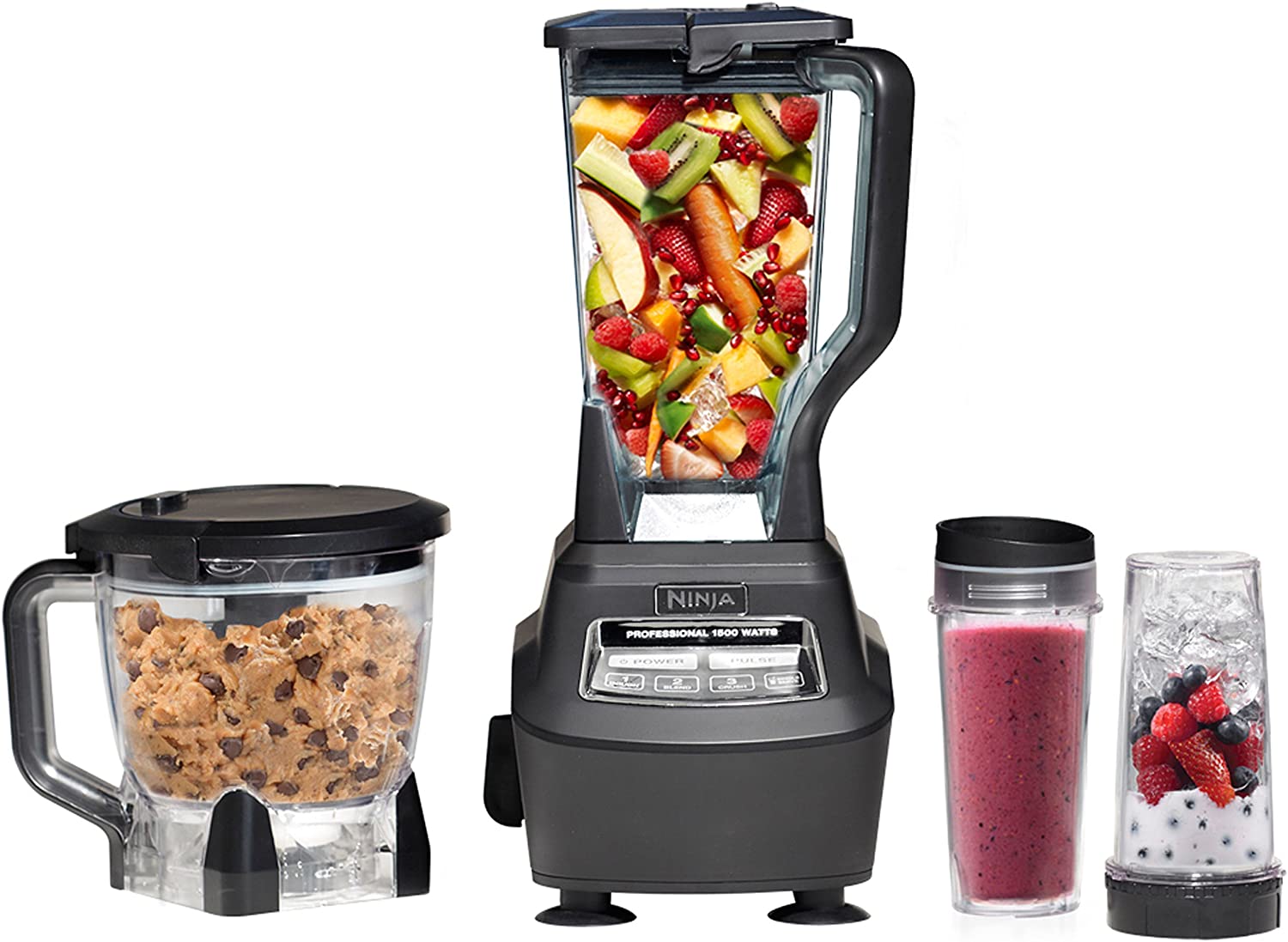 As an Amazon Associate, I earn from qualifying purchases.
When it comes to investing in your kitchen appliances, it's best to go for one that offers multiple functionalities. Going for an appliance that offers multiple applications not only frees up a lot of counter space, but it's usually more affordable than buying separate machines for each food prep activity. which is conspicuously mentioned in our Ninja Mega Kitchen System Review.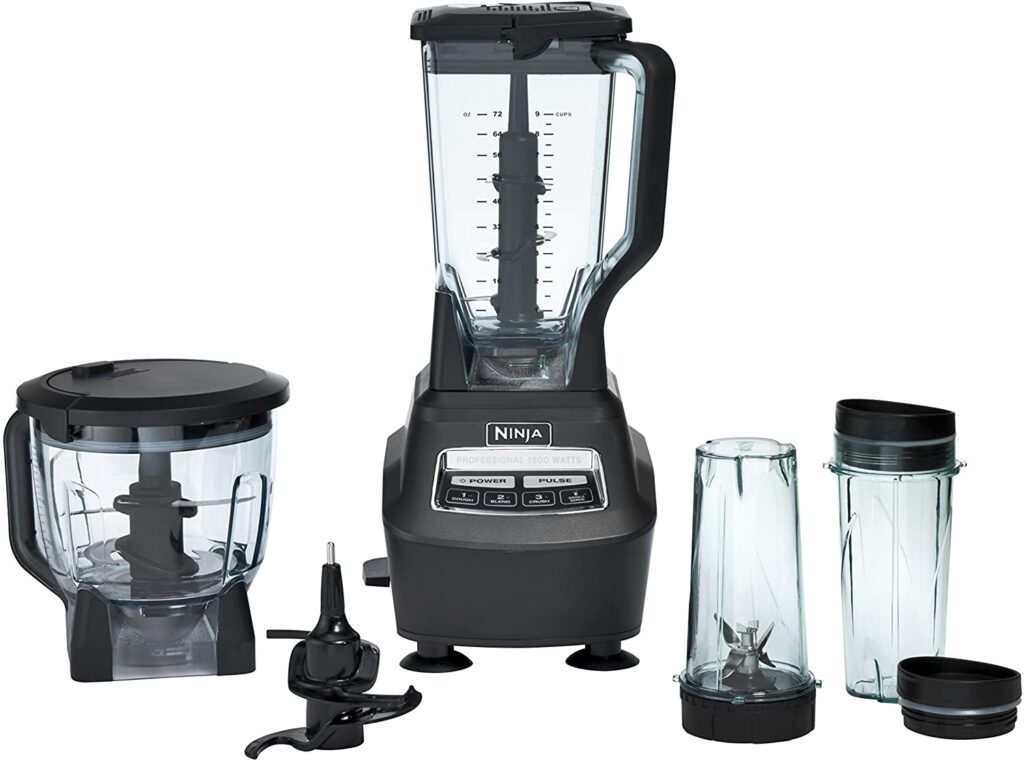 One of the most popular kitchen systems of today is the Ninja Mega Kitchen System. We haven't come across the Ninja Mega Kitchen System review that was unimpressed by this machine, so we decided to put it to the test.
In this article, we'll give you the lowdown on this stylish kitchen system and determine whether it's really worth all the praise.
At first glance, you will see a sleek machine with a stylish and futuristic appeal. No doubt, it is an eye-catching piece for your kitchen.
But aside from its powerful aesthetics, the Ninja Mega Kitchen System also boasts impressive performance. We'll break down all of its features to let you decide if it's the perfect fit for your kitchen.
Pros
Help you prepare a variety of meals.
Easy to operate.
Offers 4 blending speeds.
Stable and anti-slip base.
Very powerful motor.
Excellent value for the money.
Comes with a handy recipe inspiration guide.
Cons
Quite noisy when you operate it.
Ninja Mega Kitchen System: Multiple Functionalities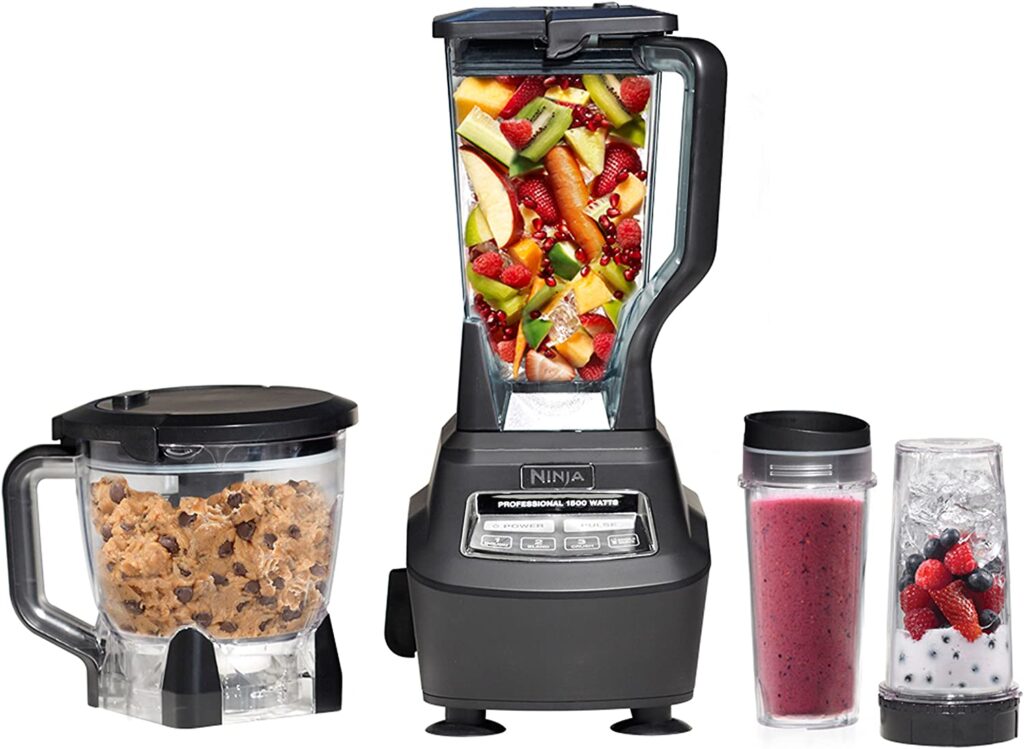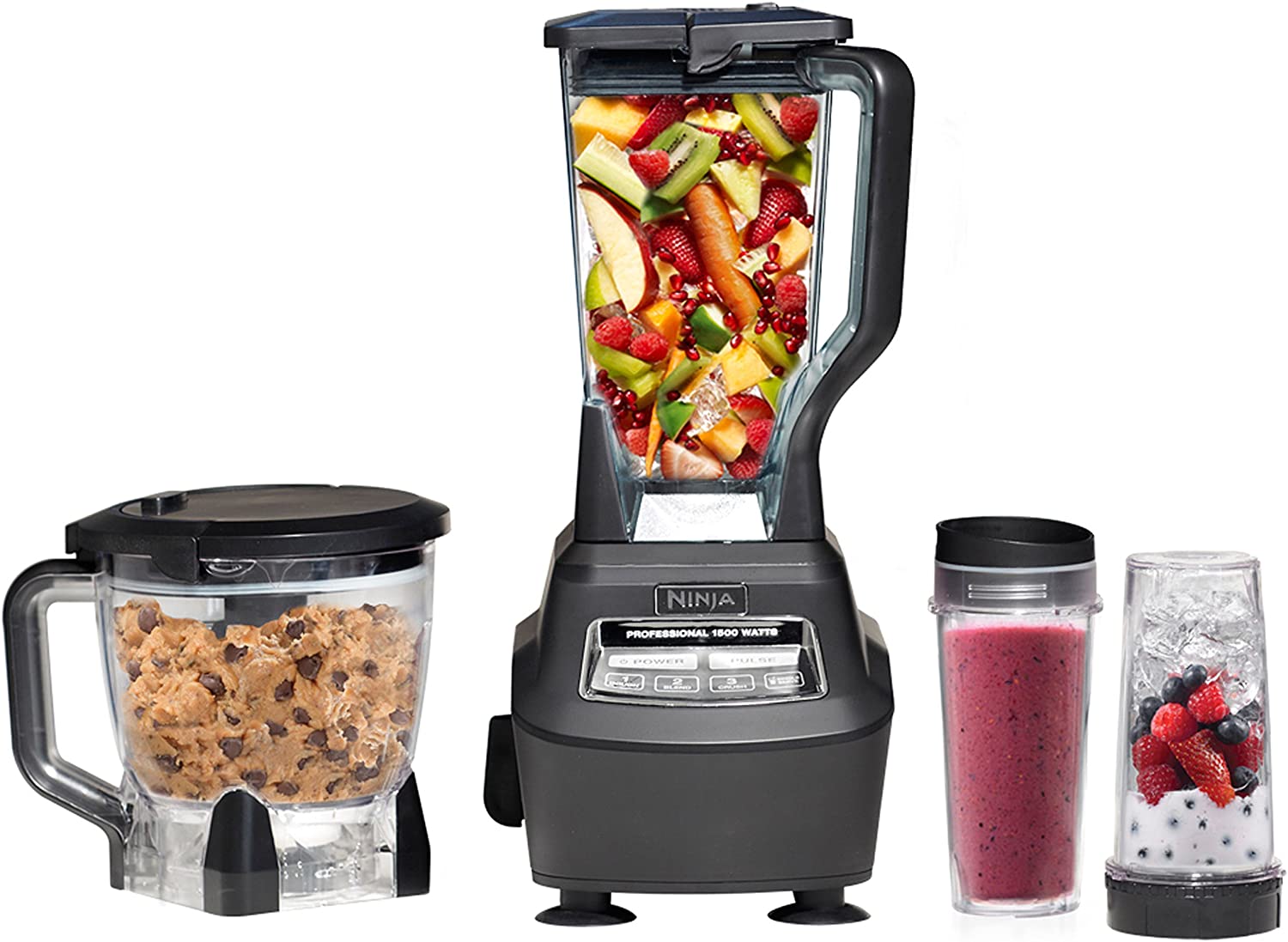 True to its name, the Ninja Mega Kitchen System indeed provides an all-around kitchen system. It doesn't just blend your favorite smoothie or grind your favorite meats – it offers so much more than that.
Aside from using it as a regular blender, this unit offers powerful frozen blending. This feature allows it to crush ice and turn it into a snow-like texture for your favorite desserts.
If you're planning to use the food processor, you can easily switch between the chopping blade or the dough blade. Thus, you can use its food processor for grinding meat, vegetables, or grains, or for conveniently mixing dough.
So whatever it is that you're planning to prepare, we guarantee that the Ninja Mega Kitchen System is all you need.
Large Capacity Kitchen System
Most of today's food processors only help you prepare small batches of food. Fortunately, this isn't the case with the Ninja Mega Kitchen System.
It has a 72-ounce crushing pitcher, allowing you to make up to 9 cups of your favorite drinks and desserts. If you have guests over, you don't have to use it multiple times just to make enough drinks for everyone. That saves you a lot of time and electricity bills!
As for its food processor, it has a capacity of up to 64 ounces or 8 cups. That's enough to prepare meals or cookies for the whole family. Whether you have a small or large family, the Ninja Mega Kitchen System will be enough.
And even if you're planning to make single-serve smoothies, you can use the 16-ounce Nutri Ninja Cups for on-the-go health drinks.
Blending Speeds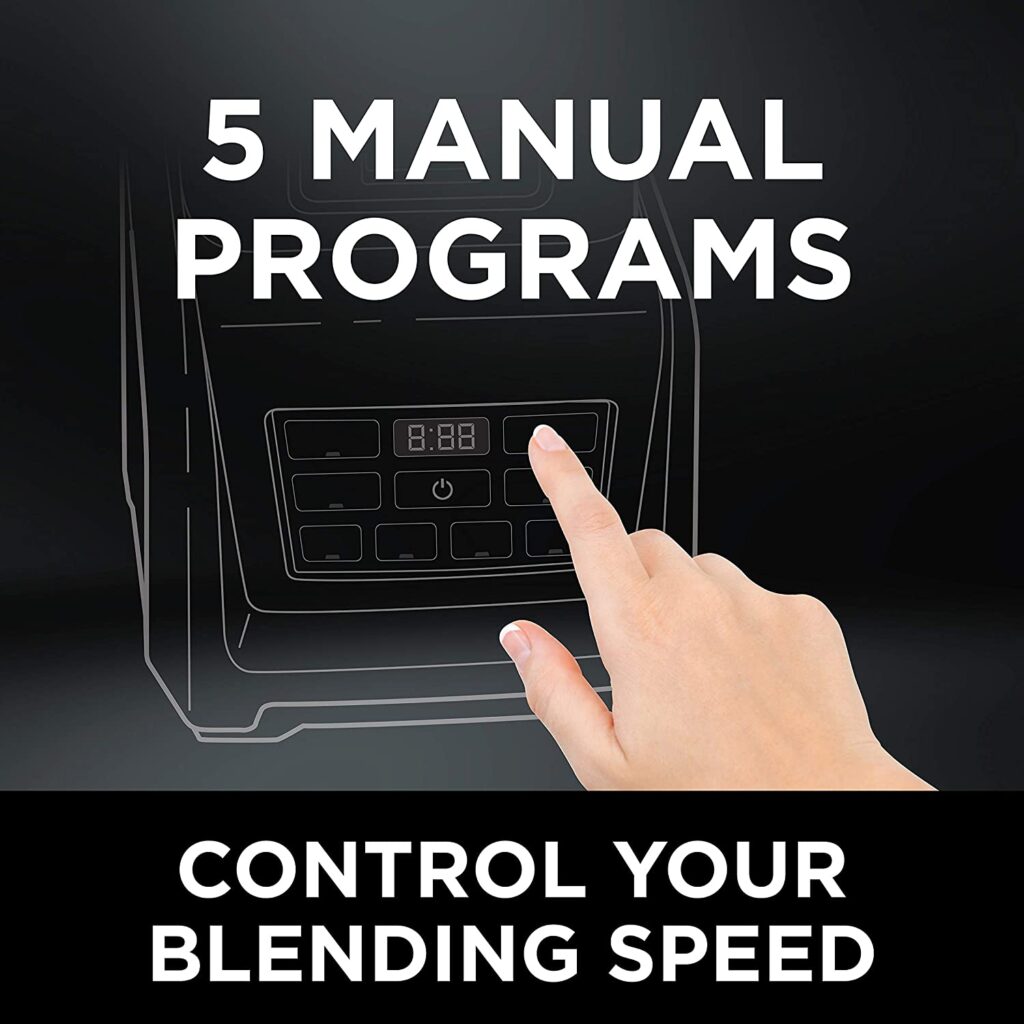 We also love the fact that the Ninja Mega Kitchen System offers 4 blending speeds. This allows you to create the perfect texture for your different drinks or meals. Whether you're mixing dough, crushing ice, or blending drinks, you can expect this unit to deliver the right speed you need.
Also, it has the pulse option in case you need shorter blending times to get the texture you want.
Powerful Motor
First of all, the Ninja Mega Kitchen System uses a 1500-watt motor that allows it to power through the toughest of grains. Aside from providing it with unparalleled grinding power, the motor also generates consistent force to make sure that it doesn't affect the consistency and quality of the output – even after using it for years.
Ninja Mega Kitchen System: Easy to Use
Most importantly, the Ninja Mega Kitchen System is very easy to use.
Its control panel is so simple that even someone with zero food preparation experience can operate it with ease. Each button is properly labeled with large texts, so you can easily tell its specific functions. And that helps you get the job done faster than when you're guessing what each button does.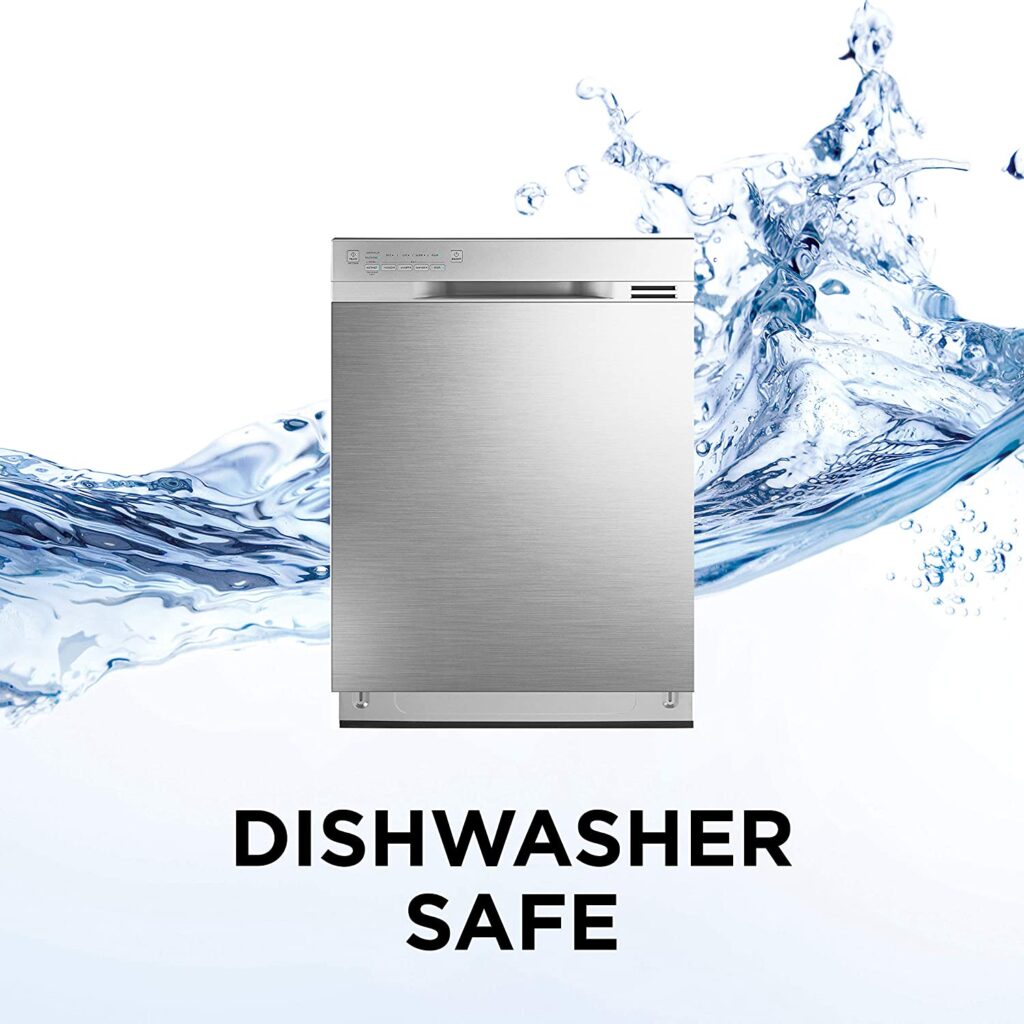 Kitchenware System: Easy to Clean
You don't have to worry about how to clean it, either. The Ninja Mega Kitchen System can be easily disassembled to make it easier to clean each component. And to make it more convenient for us, Ninja made sure that each removable element is dishwasher-safe.
We understand that cleaning up after making your favorite smoothie is the last thing anyone looks forward to. That's why this dishwasher-safe feature is a big plus for us.
Have a look a video review here
Ninja Mega Kitchen System: FAQs
For added reference, we've also collected and answered the frequently asked questions about the popular Ninja Mega Kitchen System.
Can you put hot liquids in it?
No. It is not recommended to put hot or boiling liquids into the Ninja Mega Kitchen System. If you must, wait for it to cool down until it is just warm enough. Bear in mind that hot liquids can cause damage to the unit which could greatly affect its overall performance.
Can it grind meat?
Yes. The Ninja Mega Kitchen System we equip has strong and sharp blades that can safely grind meat. Thus, you can safely use its food processor to grind your favorite cuts of meat for the freshest meals.
Can it grind coffee beans or grains?
Yes. One of the best things about the Ninja Mega Kitchen System is how versatile it is. You can use it to prepare a variety of meals, and you can even use it to grind your favorite coffee beans or grains for your diet.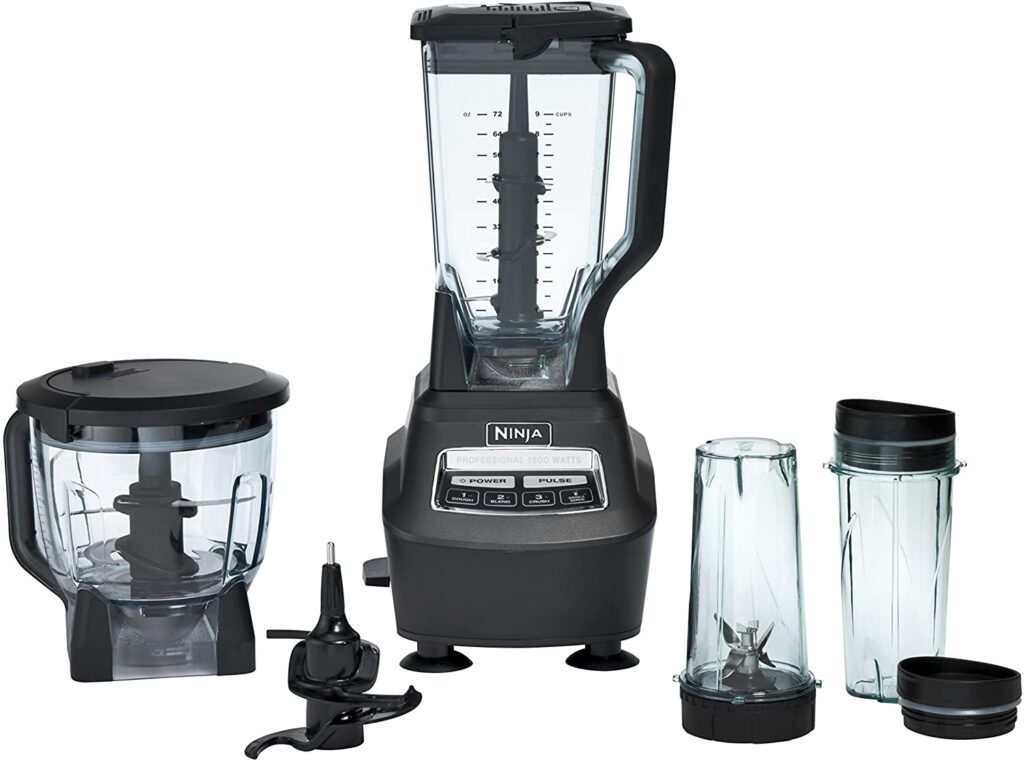 Final Thoughts
After trying out this unit, we already understood why all Ninja Mega Kitchen System reviews gave it so much praise.
At first, you'd think that it's too expensive for something that looks like a futuristic blender. But if you go through what it can offer, you'll realize that this might be the kitchen system that you've been waiting for your entire life!
It can help you prepare meals – ranging from healthy smoothies to fun desserts. The versatility of the Ninja Mega Kitchen System is surely beyond compare.
All things considered, we highly recommend this powerful kitchen system. Whether you're new to preparing your meals or an experienced home cook, we guarantee that the Ninja Mega Kitchen System will be your new best friend in the kitchen.