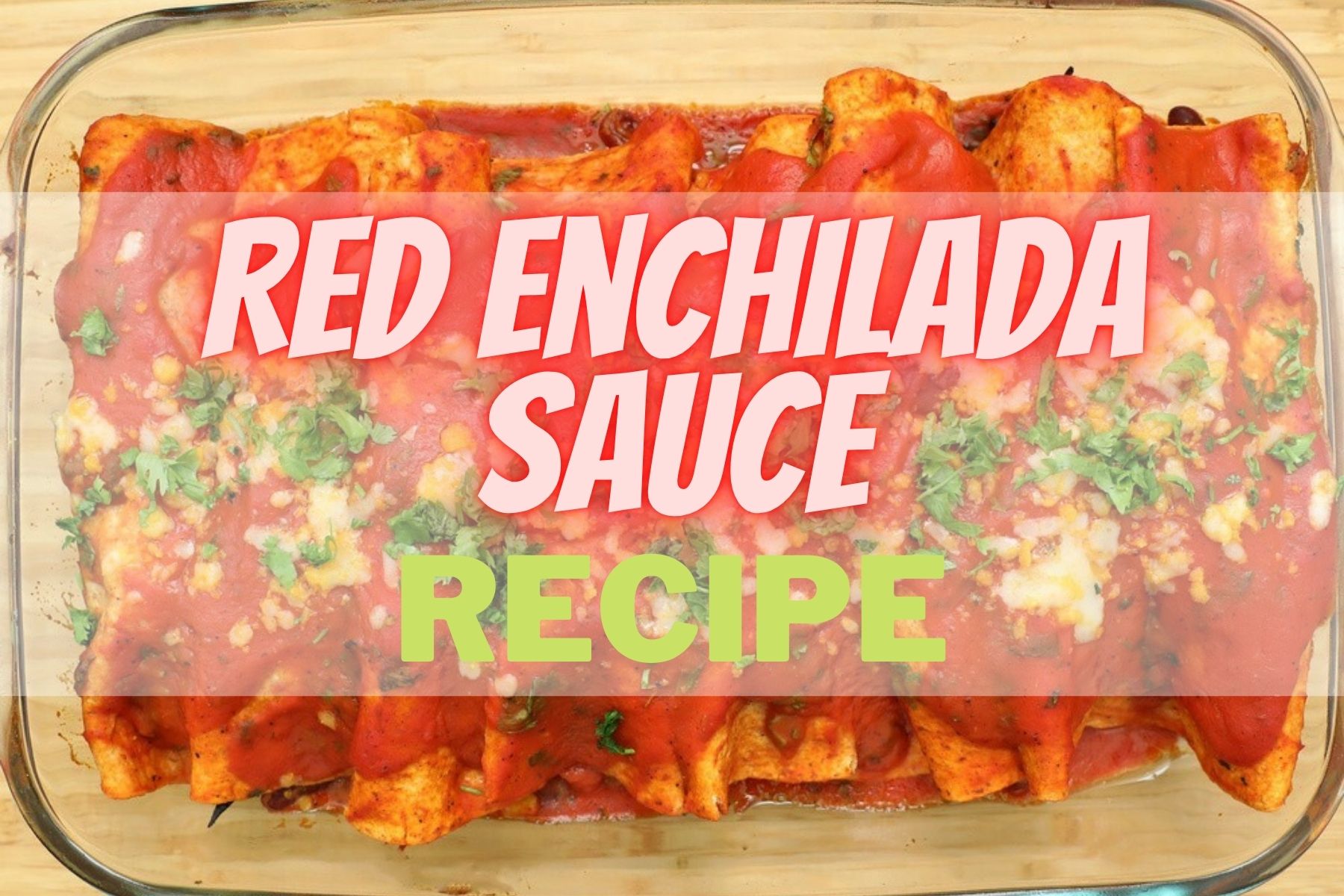 As a Mexican Dish, Enchilada has come in many different varieties. Although Red Enchilada Sauce Recipe is the most popular, there are others. The common types of sauces used for different kinds of enchiladas are Red, Green or White Enchilada Sauce. Red and green sauces are the most popular enchilada sauce among them.
Red enchilada sauce is one of the most popular types, and it's easy to make at home. You can use red enchilada sauce for all sorts of dishes. It is easy to make and tastes authentic. Although the process of making homemade sauce is a little time consuming, it's worth the effort for those who want something better.
Homemade Red Enchilada Sauce
How often do you make homemade red enchilada sauce? We know it can be a tough dish to tackle, but the recipe we're sharing today is simple and family-friendly. We use it for our Red Cheese Enchiladas and Beef Empanadas recipes; try them out.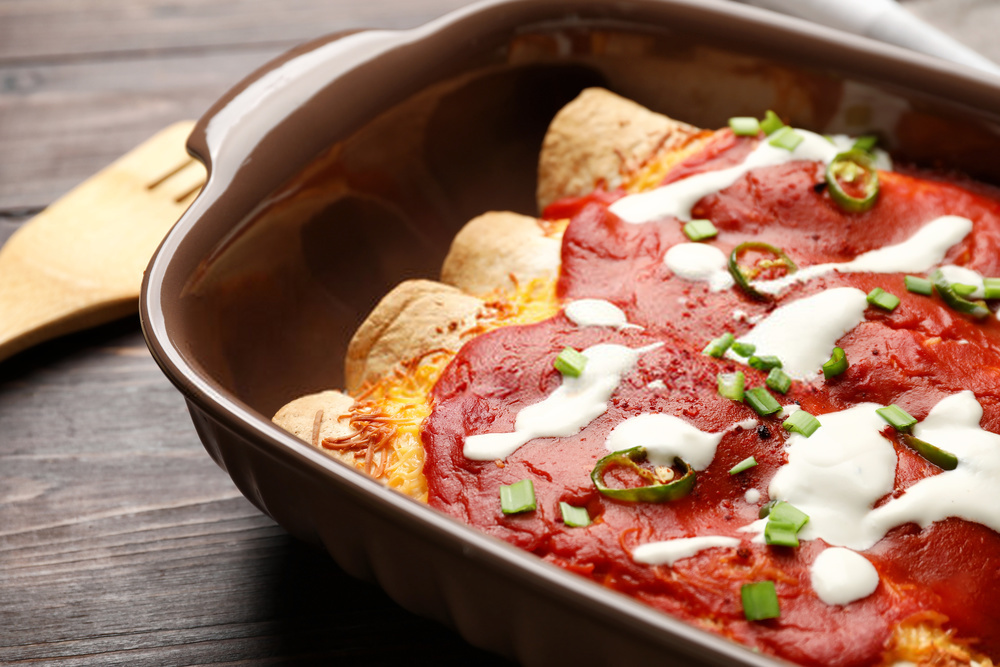 Have you ever made or had homemade red enchilada sauce before? This spicy concoction only requires five ingredients – chilli powder, garlic salt, cumin (or ground coriander), dried oregano leaves (or Mexican seasoning mix) and tomato paste – all of which are easy enough to find at your local grocery store. Our favourite way to use this deliciousness is in our Red Cheese Enchiladas as well.
Making a simple, homemade red enchilada sauce is easier than you think. It takes just a few ingredients We typically have it on hand and it's ready in less time than 20 minutes.
The chilli powder in this recipe provides some spice, but you can adjust the amount to suit your family's taste. Generic powdered chilis tend to be darker than name-brand varieties; if you use more of it, then the sauce will also turn out dark brown or blackish depending on time.
Homemade red enchilada sauce recipe Ingredients :
Making this easy enchilada sauce recipe is easier than you might think. All it takes are the following ingredients:
Chilli powder: It is important to use the right type of chilli powder for this recipe. Some brands are cayenne-based, while others include a range of spices and peppers. Find your favourite brand by experimenting with different varieties until you find one that suits your taste buds best.
Butter: This recipe calls for salt-free butter so you can control how much to add. You could also substitute the same amount of oil if needed.
Veggie or chicken stock: For a truly satisfying meal, I recommend some good-quality recipes to add delicious depth of flavour.
Apple cider vinegar: The tang of vinegar wakes up the flavours in this sauce, so feel free to replace it with distilled white vinegar.
Oil and flour: These flour and oil will thicken the sauce, so your choice of these ingredients is important. You can either use a neutral-flavoured oil (or butter), or make it gluten-free by using an all-purpose GF blend instead. There are many choices available to suit any taste.
Garlic powder, ground cumin, dried oregano: These are the other ingredients that will be used in our sauce. If you would like to increase one of these, feel free after tasting it or try using something else.
Fine sea salt: Don't forget to season the sauce. The amount of seasoning needed will depend on how salty your broth is. I typically use around 1/2 teaspoon, but it can vary depending on the brand or if you're using a low sodium vegetable stock.
I love this simple sauce! It's so delicious and easy to make. Here are the ingredients you'll need: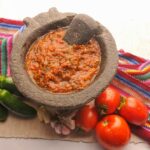 Print Recipe
Red Enchilada Sauce Recipe
Homemade Red Enchilada Sauce Recipe- For The Best Enchilada Experience
Ingredients
5

Ancho

Chilies

½

Onion

(medium)

2

pasilla

Chilies

1

plum

Tomatoes

1

cloves

Garlic

⅓

tsp

Oregano

1

tsp

cooking Oil

Salt to taste

⅓

tsp

Marjoram
Instructions
Use a hot pan to toast the chilies until fragrant.

Remove the skin of chilies, and then remove their seeds.

Put the chopped onion, tomato, and garlic in a pan with some olive oil. Turn on high heat until they become charred bits of yummy goodness.

Place the chilies, onion, tomatoes and garlic in a pot with just enough water until they are almost covered. Add oregano and marjoram for flavor.

Boil the soup for a few minutes, then simmer it on low heat.

Simmer the ingredients for 15 minutes to reconstitute their flavors and soften them.

Blend together the desired chilies, onion, tomatoes, garlic and oregano to create a salsa. This is usually done by combining all ingredients in an electric blender or food processor until smooth; this should only take about one minute.

Add some water to blend. Add more if necessary, but only little by little. Blend in two batches and stop when you're done

To make a delicious sauce, heat oil in the pan and then add strained mixture. Fry for 3 minutes on medium-high to cook out some of those raw garlic flavors before reducing the temperature. Simmer it for 30 more minutes until you get that thick texture we all love.

After you add salt to your sauce, allow it for at least 2 hours so that the flavors meld. Then heat up and serve.
Video
Nullam et nibh ac nulla commodo ultricies ac in dui. Mauris mollis leo vel nulla scelerisque lobortis. Nam ultrices dui eget suscipit euismod. Duis id metus condimentum, interdum mauris a, venenatis sapien. Mauris felis libero, ultricies vitae dolor sit amet,
red enchilada sauce recipe : Possible Variations:
This recipe is a flexible one, so feel free to tinker with the ingredient amounts and customize it however you prefer. For example, I often make my own sauces instead of using store bought Enchiladas, they're not only cheaper in general but also allow me more control over what goes into them.
Make it milder: If you're not a fan of spicy food, feel free to start with 2 tablespoons of chilli instead of 4 in the recipe. This can be adjusted accordingly once your sauce has simmered and after tasting it as well.
Make it gluten-free: There are two ways to achieve a gluten-free sauce. One way is by replacing the all-purpose flour with a 1:1 blend, and mixing it in after cooking your roux (cooking fat) and before adding any liquid such as milk or chicken stock. The other option is to omit the flour altogether from this recipe entirely, but instead, add cornstarch slurry for thickening when you're simmering away on that stovetop of yours.
Make it creamy: Add 1/2 cup of heavy cream to make this recipe come alive with a creamy and smooth enchilada sauce.
Make it smokier: To make your chilli a little spicier, feel free to swap some of the American chilli powder for chipotle. Chipotle is considerably spicier and can give an extra kick if that's what you're looking for.
Make it spicier: One way to make this sauce spicier is by adding in a pinch or two of cayenne. Alternatively, you can choose to use ancho chilli powder which has a smokier and slightly spicier flavour.
Add tomato sauce: To give your enchiladas a more tomato-y taste, add some tomato paste to the sauce and simmer it for about 2 minutes.
Uses of red enchilada sauce: We love this sauce so much that we put it on everything! It goes great with anything from pasta to pizza. Here are just a few of our favorite recipes:
Beef Empanadas: Beef empanadas with red enchilada sauce, beef/roast recipe and this amazing dough are requested in my home more than any other dish. Every time we have a Mexican meal they come out of the oven piping hot.
Red Cheese Enchiladas: These are the easiest red cheese enchiladas. They're so flavorful that you'll be able to enjoy them with a side of beans, rice, or even beef empanadas. It's worth the time spent cooking up these family favourites for your next dinner party too- just don't forget those salsas.
Beef Enchiladas: This recipe is perfect for those days when you are feeling lazy and want to make a quick dinner. If we don't have leftover pot roast, that's okay! We can use it as the meat in our Green Chile Burritos which will taste just as good or better than these enchiladas.
This is the sauce that we love and hope you like it too! It's become a favourite at our house. We use this for all of our cheese enchiladas because there are so many ways to enjoy them–even as a dessert with some ice cream on top, YUM!!
Difference between red and Green enchilada sauce!
Enchilada sauce is a type of Mexican-style tomato-based condiment, usually you can serve with shredded chicken or beef enchiladas. The primary difference between red and green sauces are the types of chillies that comprise them; red being made from dried peppers New Mexico Chiles, Ancho Chiles to name two examples while green salsa uses fresh Anaheim Peppers among others such as Hatch Pepper varieties.
Aside from color differences in appearance due primarily to different ingredients used for each variety. These two flavors have their own distinct culinary characteristics which set them apart on the flavor spectrum – spicy vs mild heat levels depending upon choices within recipes by chefs and cooks alike across both versions.
Enchilada sauce can come in a variety of colors from green to red, but the flavors tend to vary depending on what ingredients are used. Generally speaking, though both sauces contain similar spices like garlic and cumin as well as the acidity from lime juice or vinegar they differ when it comes to sweetness. One reason for this is that Red enchiladas generally have apricots whereas Green ones often include tomatillos with their tangy flavour.
Red Enchilada Sauce tends towards more robust and earthier taste while Green Enchi-la-da Sauce includes herby tones thanks largely in part also because of fresh
The enchilada sauce that is spicier all comes down to the chilli. If serrano peppers are used in green, it will knock the socks off of any red made with ancho chillies (which is a poblano pepper when dried). This role reversal can take place by swapping out chillies for either of these sauces.
FAQS:
Is enchilada sauce the same as red sauce?
Red enchilada sauce is a type of spicy chilli that comes in red color. It can be made from one or many chillies. You can use it for an appetizing Mexican dish called Enchiladas, which means "to the season with chiles."
What can I use instead of red enchilada sauce?
If the enchilada sauce is out of stock, there are plenty of sauces that we can use to add flavour. Green enchilada sauce and taco sauce have similar ingredients as store-bought red enchiladas. But these two options tend to contain less sugar than regular store-bought versions. For something different try salsa with tomato for a Mexican twist on your dish.
Is Red Enchilada Sauce spicy?
The red sauce can come in many varieties. Some are spicy while some may be milder, depending on the recipe or who is making it. In most cases, the heat depends on what kind of chillies we use to make this red sauce from scratch.
Conclusion:
I hope this has been helpful! This blog post intends to provide you with some insight into the world of enchilada sauce. Whether it be green or red, we have a recipe for you. In addition, there are dishes that can pair with a sauce including chicken mole Verde, shrimp cocktail tacos, and beef barbacoa.
If you don't see your favourite enchilada sauce recipe here, leave it in the comments below and we'll try to add it! We hope that these recipes inspire new ideas for how to make some of the best-tasting dishes with Mexican flavours. It seems there are many variations on this dish as there are people who love them. This means no matter what kind of foodie or cook you might be, there's an option out there for everyone. Which one is your favourite? Did any of our suggestions help inspire a new twist on an old classic? Let us know by commenting below.