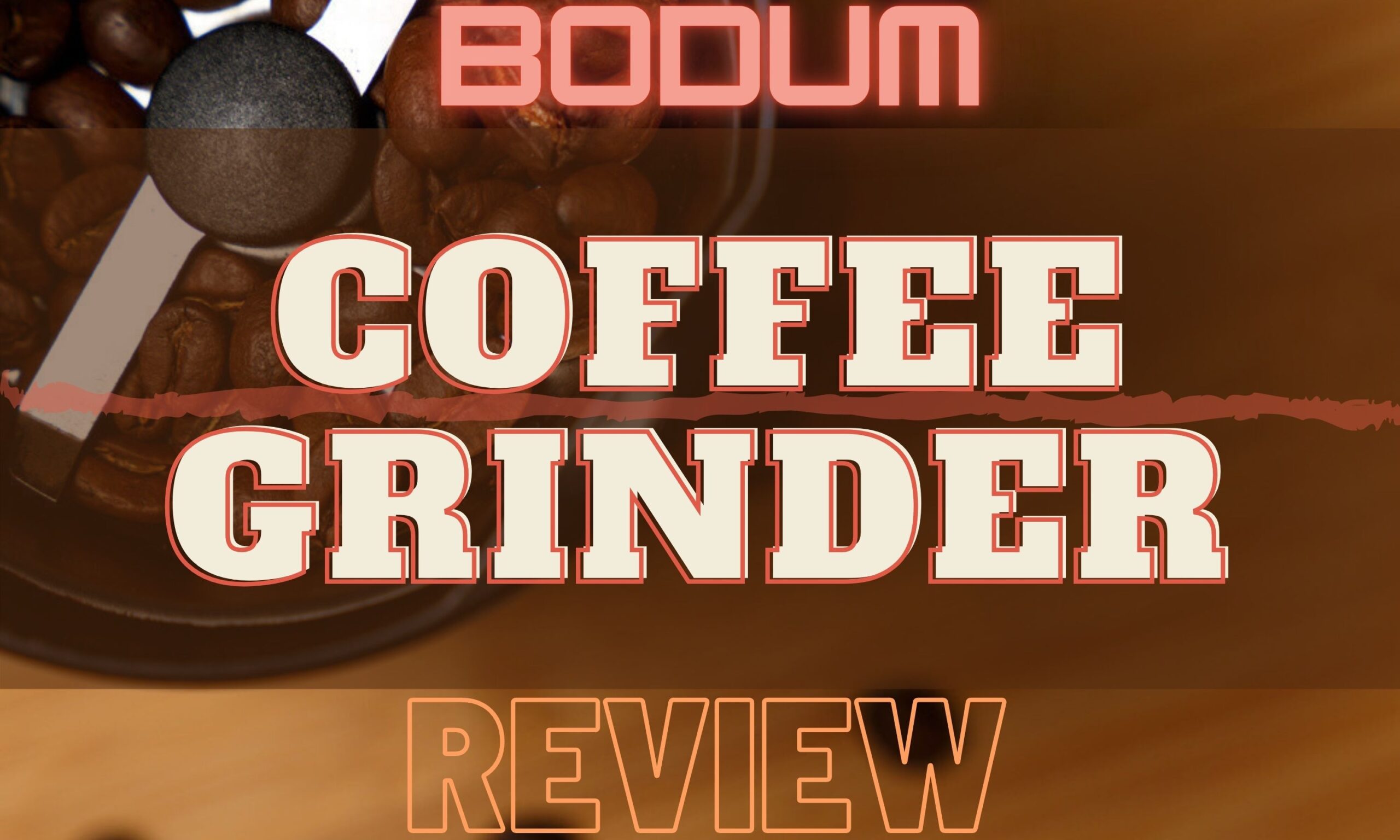 As an Amazon Associate, I earn from qualifying purchases.
Coffee lovers will agree that a great cup of joe is made with freshly ground coffee beans. Buying pre-ground coffee beans aren't as fresh as newly ground ones, so it may not have the same rich flavor mentioned in Bodum Coffee Grinder Review as the latter kind. This is why they invest in a good coffee grinder. When it comes to coffee grinders, extracting the best flavors and aroma only results from using a burr grinder. After the end of our Bodum Coffee Grinder Review, you will be able to make a decision finally, what and which prices grinder is appropriate for you.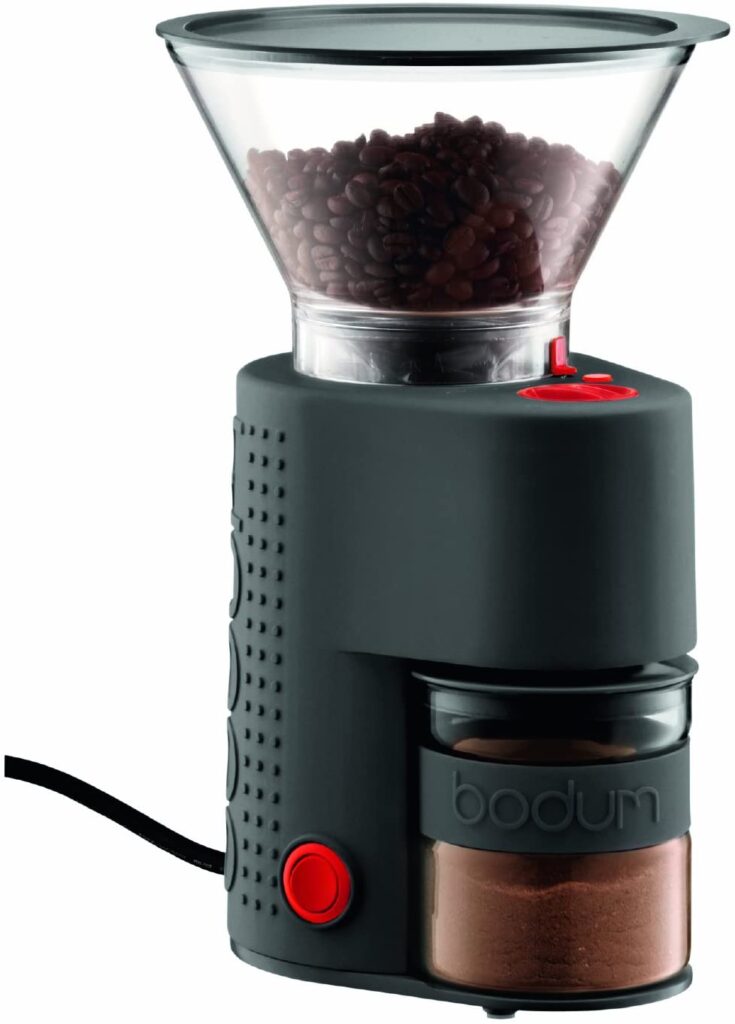 Let's be honest – burr grinders can be so expensive. For the coffee aficionado on a budget, we believe the Bodum Bistro Burr Coffee Grinder is perfect for you. Although it's half the price of most of today's burr grinders, it doesn't skimp on quality.
In this Bodum Coffee Grinder review, we will highlight all the important features and similarly mention what we like and don't like about it. We hope that this review will help you decide to finally invest in a good coffee grinder.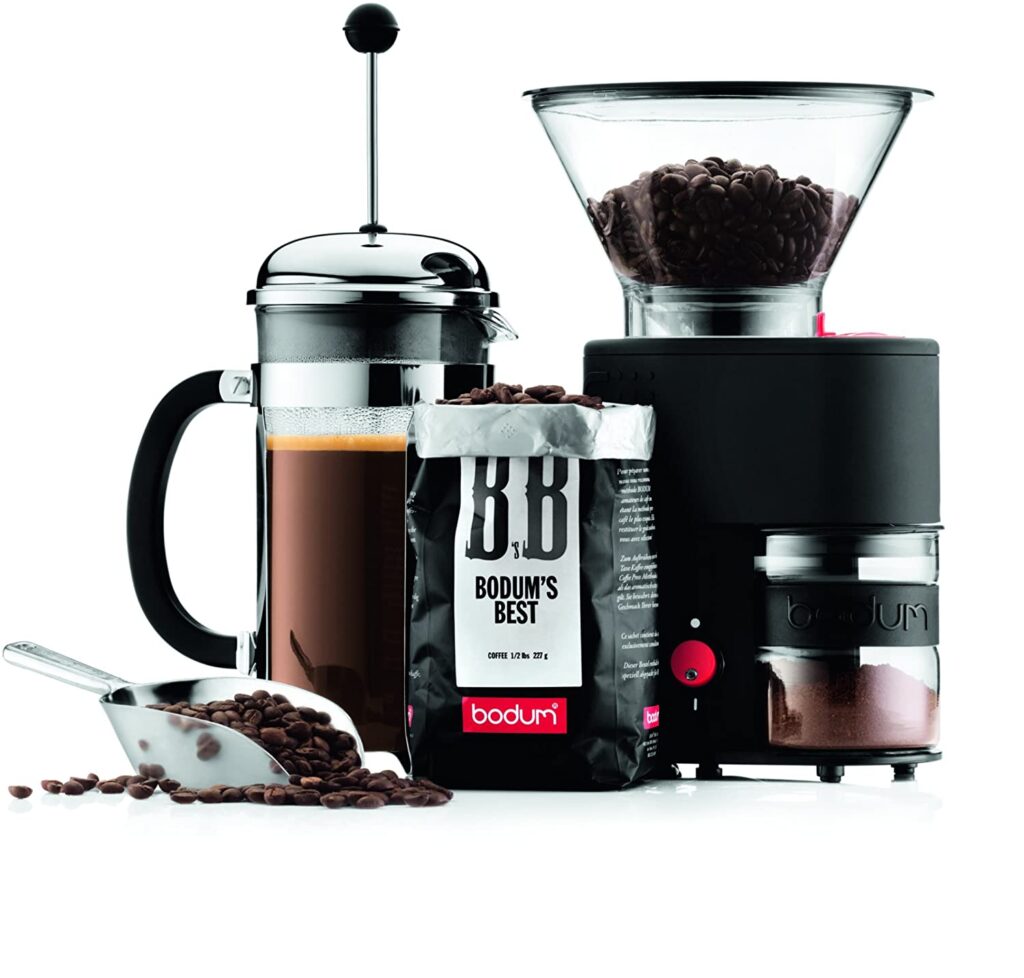 Bodum Chambord is an internationally-renowned name in the coffee business. Since its establishment in 1944, the brand has consistently grown into a household name. Bodum is best known for its French press, which is why it instantly caught people's attention when it introduced its line of coffee grinders.
Because of the famed reputation attached to the Bodum name, we expect so much from the Bodum Bistro Burr Coffee Grinder. Will it live up to our expectations? Read on to find out.
Pros
The conical burrs produce consistent and premium-quality coffee grounds.
It is easy to operate.
The silicone grip prevents it from slipping.
The borosilicate glass catcher reduces the static that could affect the quality of the beans.
It offers excellent value for the money.
It is easy to clean.
Cons
It can be quite noisy to operate.
Some of its plastic components are not very durable.
Conical Burrs
It's common knowledge in the coffee lovers community that conical burrs are the best at grinding coffee beans. Its shape allows it to crush the beans into desirable pieces without creating any heat or friction. And that guarantees to keep the bean's freshness and flavor.
The burrs on the Bodum Bistro Burr Coffee Grinder are made of stainless steel material, known for their strength and durability. You can surely expect this coffee grinder to last for years.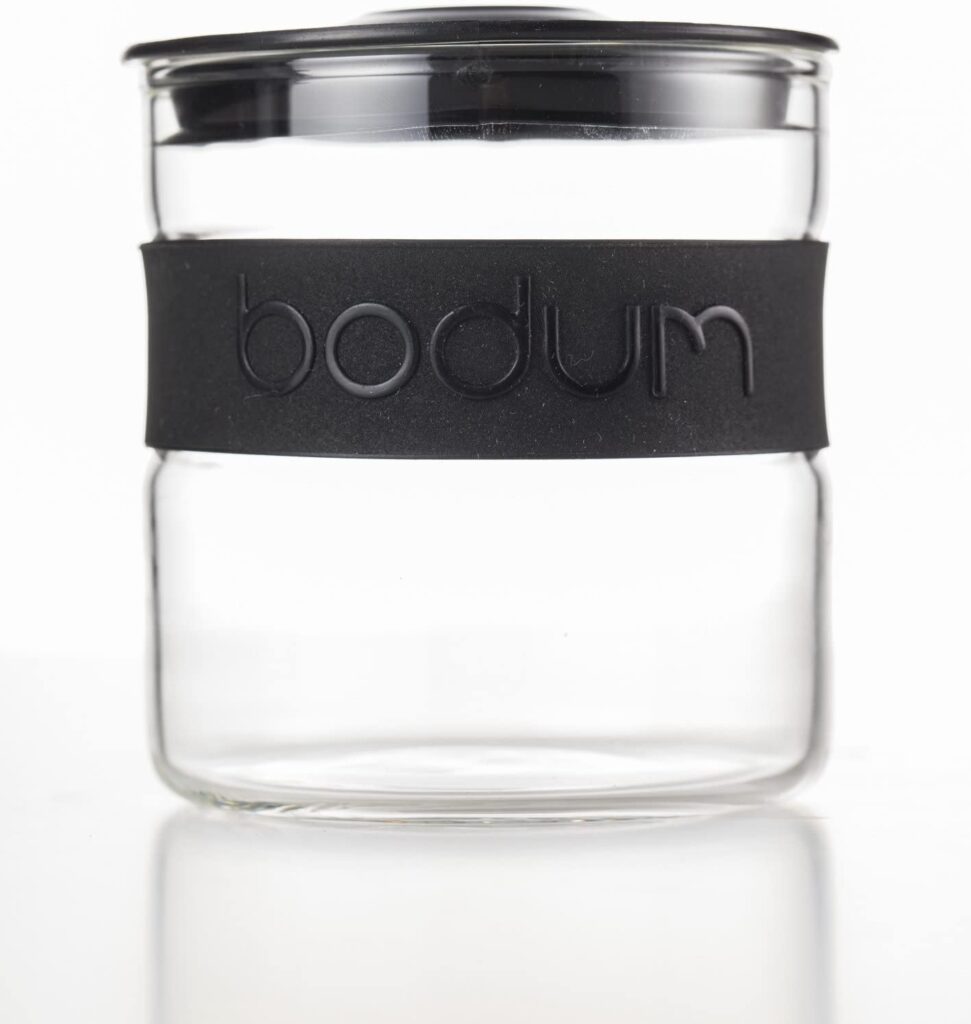 Decent Capacity
A good coffee grinder will be able to hold enough beans for a few days. This keeps you from having to refill it several times a day, which can be time-consuming.
Fortunately, the Bodum Bistro Burr Coffee Grinder has a hopper that can hold up to 7.75 ounces of coffee beans. While this is smaller than other grinders, this is a decent capacity if you're mainly brewing for your personal consumption.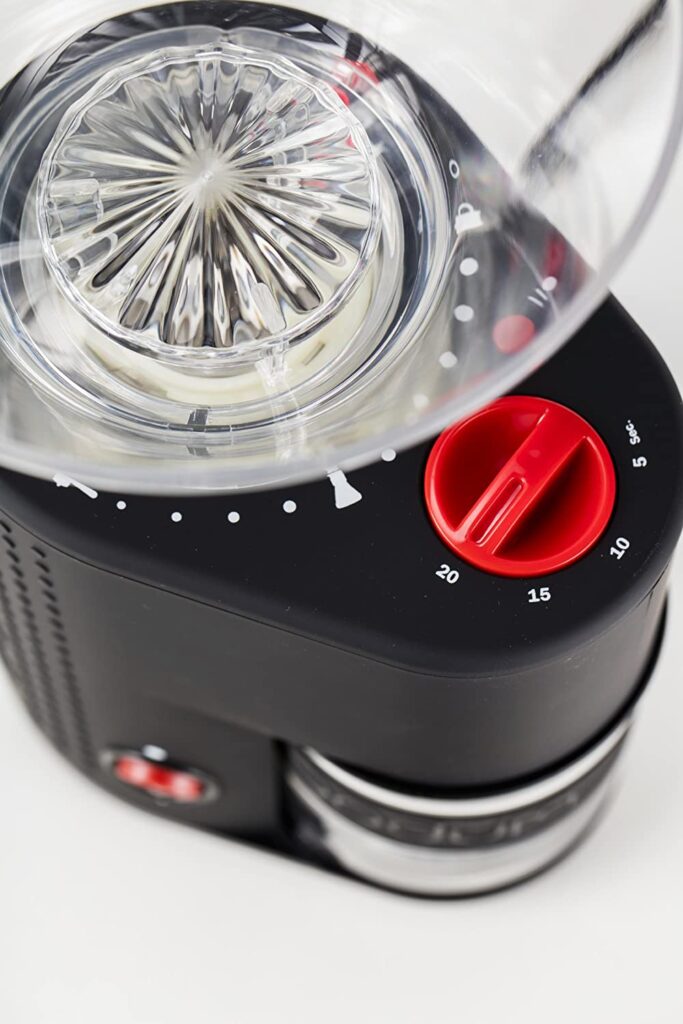 Fortunately, the Bodum Bistro Burr Coffee Grinder is also easy to use. You can choose between operating it via a push-button or through the timer, so you can produce the right amount of grounds you need for your brew. This prevents you from grinding more than what you need, so you get to preserve more beans for later consumption.
It also has 12 grind settings which you can easily set. This allows you to choose the best texture and grind size for your specific brewing needs. If you're unsure, you can check out the measurement guide etched on the lid of the hopper. This is quite useful, especially if you're a beginner.
Easy to Clean
Regardless of what we're preparing, cleaning up is always our least favorite activity. For this reason, we wanted to see if the Bodum Bistro Burr Grinder would make cleaning up easier for us. We were not disappointed.
First of all, this burr grinder has easily removable parts, so getting them clean won't take hours of your time.
Second, its components are dishwasher-safe, and this frees up a lot of your time. You can simply pop it inside the dishwasher and let it do the dirty work for you. This allows you to focus on more important tasks at hand.
And even if you plan on cleaning it by hand, the catcher has a silicone grip that doubles as an anti-slip feature. This allows you to get a good grip on it so you can wash it thoroughly.
Frequently Ask Questions: FAQs
What is the difference between burr and blade grinding?
The main difference between burr mills and a blade grinder is how it produces the coffee grounds.
A burr mill efficiently crushes the bean to produce a uniform and consistent output. Because it uses a crushing motion, it does not create any static, heat, or friction which could affect the quality of the grounds.
On the other hand, blade grinders slice the bean until they reach your desired size. But because it uses a slicing motion, the output is often uneven and of different sizes. It also exposes the coffee grounds to heat and friction, which causes it to have a slightly bitter taste.
Does the Bodum Coffee Grinder have an automatic shut off function?
While the Bodum Bistro Burr Coffee Grinder has a timer to help you grind the right amount of beans, it does not have an automatic shut-off function that turns itself off whenever the catcher is removed. Thus, you have to make sure that it is completely finished grinding before you remove the catcher – otherwise, you'll end up cleaning a mess.
Is the Bodum Coffee Grinder noisy?
The Bodum Bistro Burr Coffee Grinder is quite noisy when you use it. The sound can be compared to the sound made when you're using any regular blender. Depending on whom you're living with, this can be quite noisy, although it's something you can get used to.
Final Thoughts
If there's anything we learned from writing this Bodum Coffee Grinder review, it's that you can enjoy great coffee for a good price.
The biggest takeaway for us is the conical burrs, which efficiently crush the beans without affecting their aroma and flavor. Without a doubt, you'll be able to preserve the flavorful richness that each bean has to offer – and that's the best way to start your day.
While all the other features of the Bodum Bistro Burr Coffee Grinder seem too simple, we find it sufficient for its price. After all, it serves its primary purpose of grinding coffee beans, so we're quite satisfied with the purchase.
All things considered, the Bodum Bistro Burr Coffee Grinder is the perfect budget-friendly grinder. Whether you're new to grinding your own beans or simply looking to replace your old blade grinder, we guarantee that this device won't disappoint.