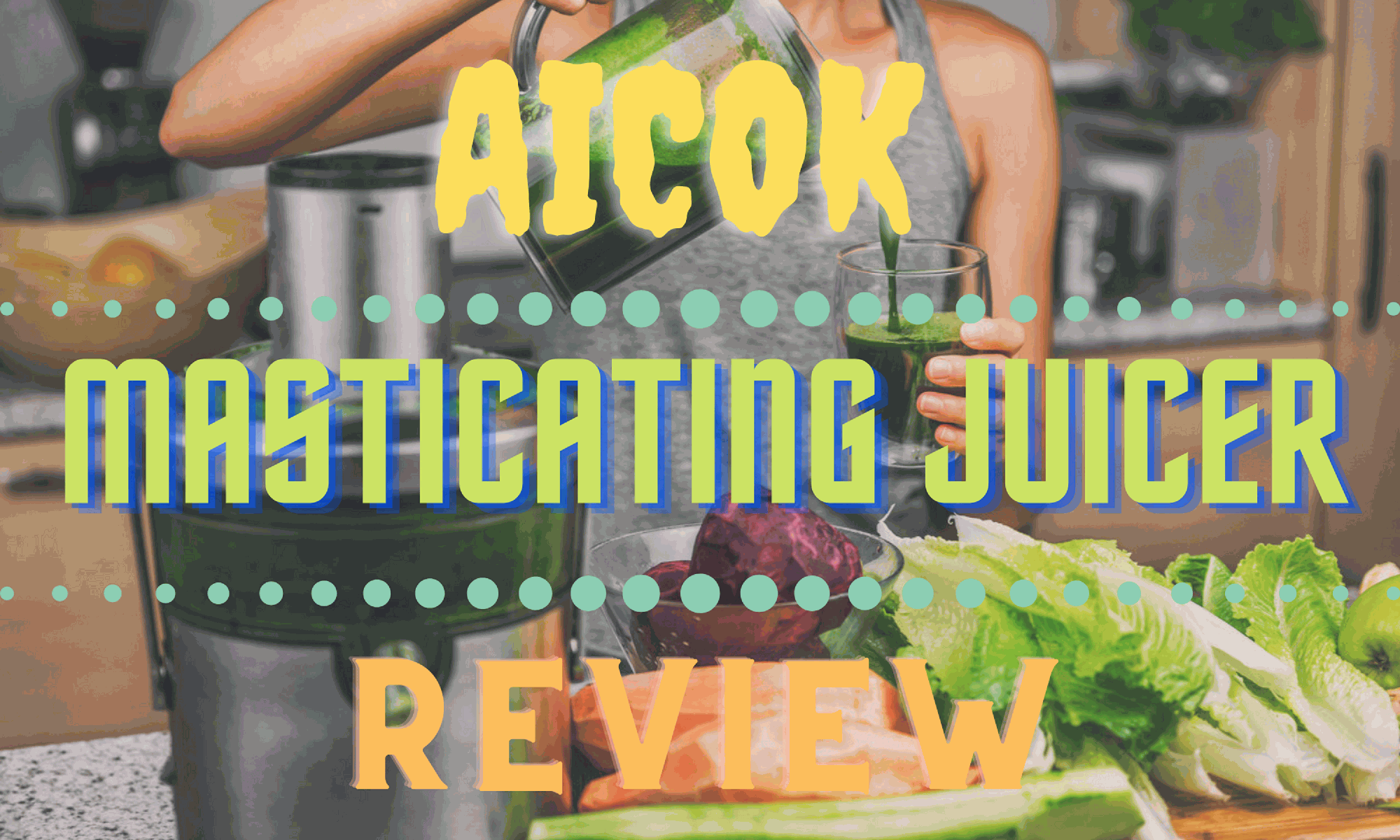 As an Amazon Associate, I earn from qualifying purchases.
Juicing is a great way to improve vitamin intake in your diet. You can incorporate as many fruits and vegetables as you like without leaving a bitter taste in your mouth – which is helpful if you have picky eaters in your home. Our Aicok Slow Masticating Juicer Review will let you know full and functional specifications.
But let's face it – not all juicers are created equal. While most of them are created to extract as much juice as possible, they may not be as efficient at preserving the nutrients of each fruit or vegetable.
This is why we were instantly drawn to the Aicok Slow Masticating Juicer's promise of providing us with nutrient-rich juice. In this Aicok Slow Masticating Juicer Review, we'll share our honest opinion about this juicer. We'll try to dig into each of its features to check if it's really worth all the praise.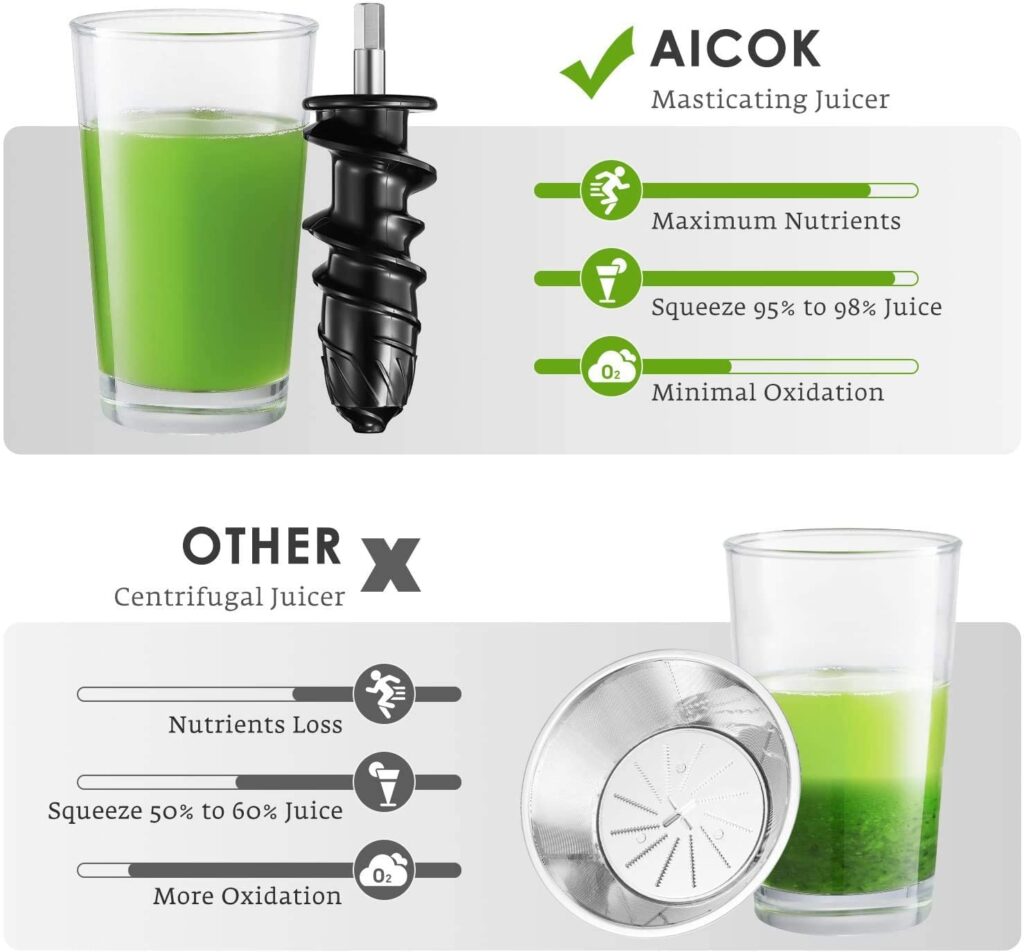 When it comes to reviewing juicers, you have to look into four main factors: its overall performance, the quality of the juice it produces, how easy it is to use, and how easy it is to clean.
Product Technical Specs:
Color choices – black-green, black-orange
Motor Power – 150W
Weight – 3.4 kg
Speed – 80 rpm
Warranty – 3 years
Size
Aicok slow masticating juicer is compact with a very little counter space occupied
Note: Since, having a DC motor, by switching on, Aicok slow juicer makes a slight delay in starting to protect the motor. What do you think, It isn't a limitation of this juicer!
Pros:
Offers excellent value for the money.
Helps preserves the nutrients in the juice.
Has a high juice extraction output.
Easy to clean.
Components are dishwasher-friendly.
Stable base with anti-slip feet to prevent spillage while juicing.
Easy to assemble and operate.
Operates quietly.
Cons:
Tends to vibrate a lot.
Plastic components made, that are not very durable.
Cannot separate seeds.
Aicok Masticating Juicer Performance
At a pressing speed of only 80 revolutions per minute, the Aicok Slow Masticating Juicer is one of the most efficient slow masticating juicers in the market today. As a rule of thumb, any juicer that runs at less than 100 RPM would make a great slow-masticating juicer.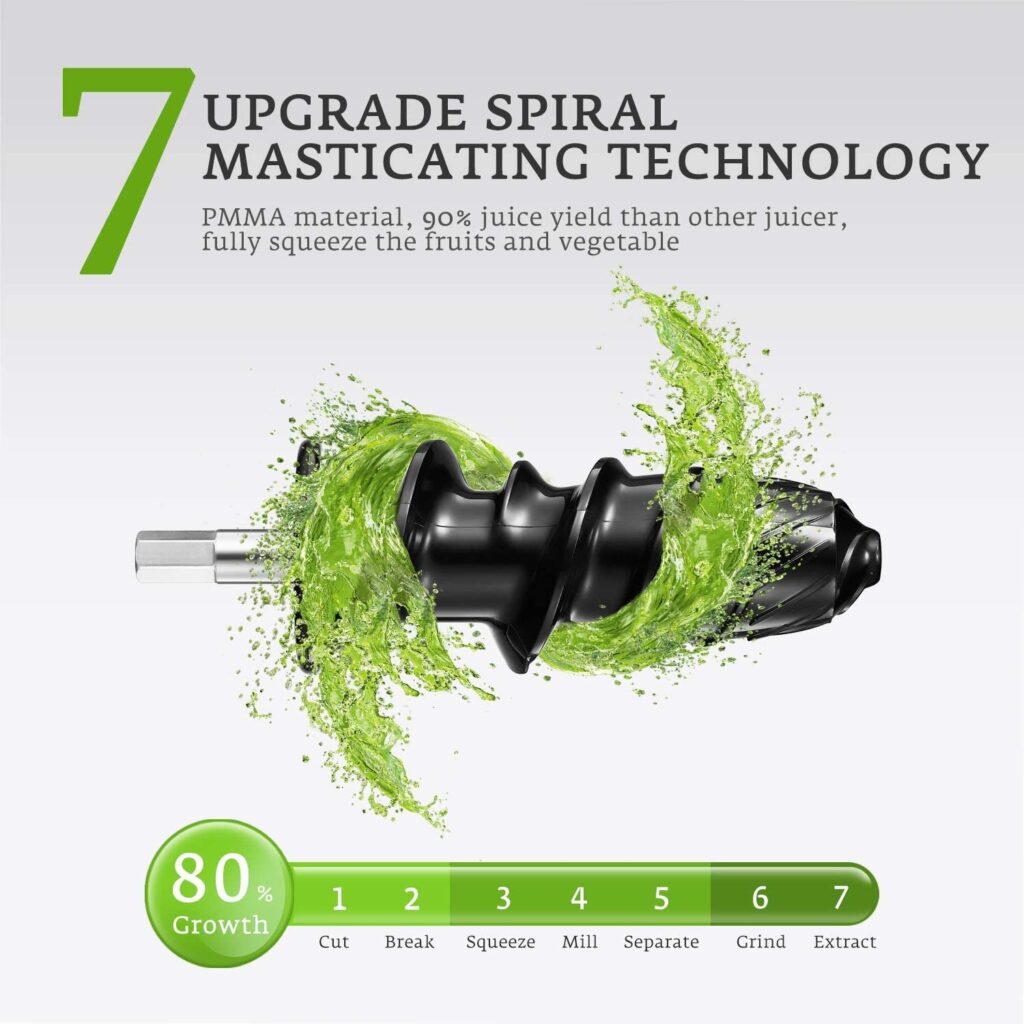 To give you an idea, this juicer from Aicok produces less heat and friction, as compared to a regular juicer that runs at over 1,000 RPM. While a fast juicer gives you quick output, the heat and friction it produces could affect the extraction of nutrients from the produce. This is how slow juicers are able to preserve the nutritional value of each fruit or vegetable.
Aside from its ideal pressing speed, the Aicok Slow Masticating Juicer has also a 7-spiral extraction system.
This extraction system efficiently slices and opens up each cell of the products to guarantee maximum extraction without causing it to oxidize. And when minimal oxidation takes place, we assure you that you're able to preserve all the vitamins and nutrients with the juice.
Performance-wise, it is quite impressive with the Aicok Slow Masticating Juicer. Its slow speed helps extract up to 98% of the juice without sacrificing its nutritional quality – and that's quite impressive.
Aicok Juice Quality
The next factor you have to consider is the quality of the juice. Juicing is a fun way to feed picky babies and kids with the nutrients they need. So it's best to preserve as much of the natural vitamins and minerals in each fruit or vegetable you use into the juice.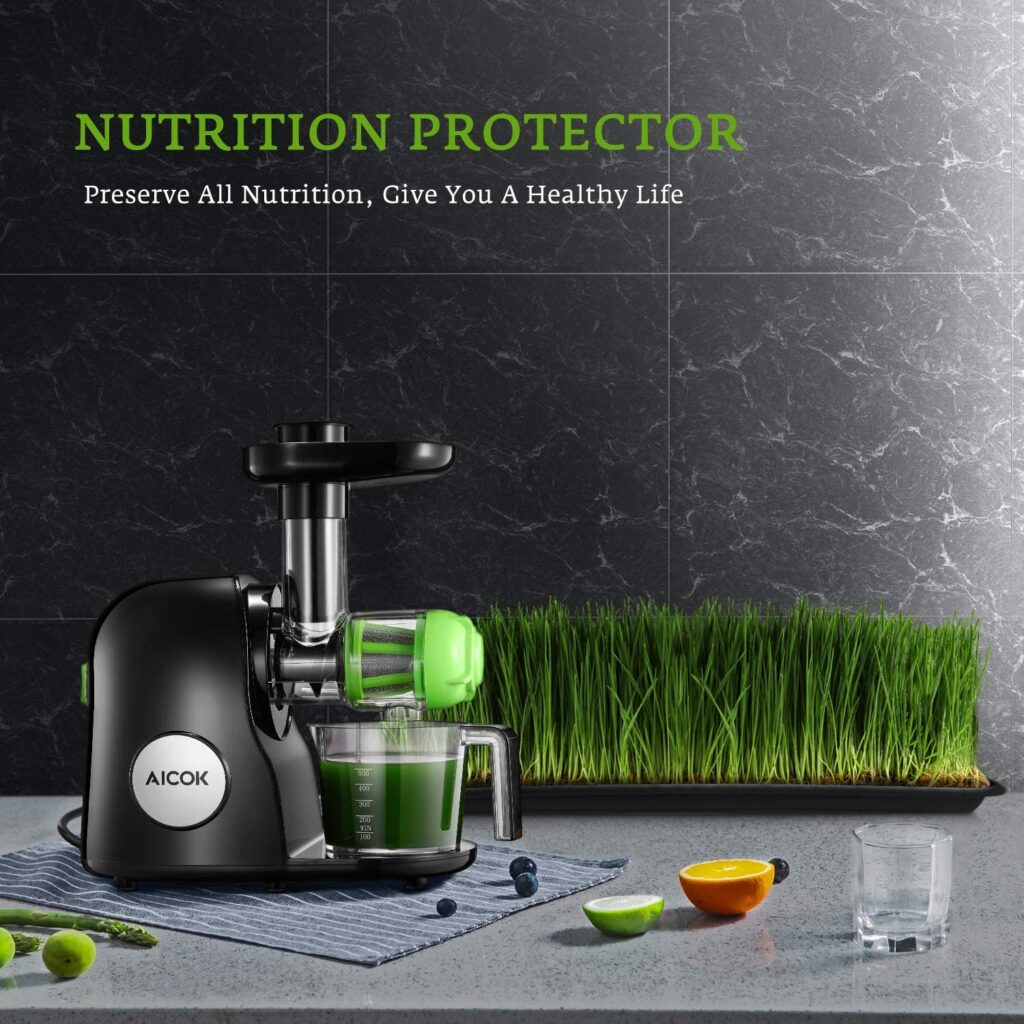 We have already mentioned that this slow juicer is specially designed to help retain all the nutrients from the produce you're using. But aside from what we've previously mentioned, this juicer still has a lot to offer.
First, the Aicok Slow Masticating Juicer has a sophisticated system that helps separate the juice from the pulp. You don't have to worry about using another tool to separate the pulp because this juicer does the job perfectly.
Second, this slow masticating juicer from Aicok uses food-grade BPA-free materials. This assures you that the juice will remain contamination-free with harmful chemicals that were used in its production.
Thus, the Aicok Slow Masticating Juicer provides you with only the healthiest juice possible. Within mind, we can assure you that you're only feeding your young ones with the freshest and tastiest juice possible. In fact, it's so good that even adults and older family members will surely enjoy drinking it as well.
Ease of Use
The reason why people are hesitant to own a slow-masticating juicer is that they feel intimidated by this machine. They think it requires a set of skillful hands and a professional technique to properly squeeze out all the juice while keeping all the nutrients intact.
Fortunately, this is not the case at all. This Aicok slow masticating juicer review will help you to know how to extract all the juice without much effort on your part.
It has a simple interface with properly labeled buttons, so you're not left with guessing what each function is. Even if you're new to juicing, we guarantee that this juicer won't leave you feeling helpless.
Juicing with it is really simple as well. Just connect the juicer to a power source, turn it on, put all your ingredients inside the feeding tube, and help push them down with the food pusher. And that's it – just wait for the juice to be extracted and you're done.
You don't have to worry about disturbing your neighbors or waking the kids up when you use it. The Aicok Slow Masticating Juicer runs at only 60 decibels, which likens to your voice during a normal conversation.
Easy to Clean
And finally, we made sure that the Aicok Slow Masticating Juicer is easy to clean. Nobody wants to spend hours trying to clean a machine, so we understand the need for a juicer that is easy to clean. And fortunately, this item did not disappoint.
To start, it is made with a one-button disassembly system. Just press the button and the unit unlocks itself so you can easily take out the parts that you have to clean. You don't need to use tools just to remove each element, which is a very convenient feature.
We must also add that the Aicok Slow Masticating Juicer has a reverse function. If you find anything stuck inside the blades during the juicing process, activating it in reverse mode will help remove the stuck fruit or vegetable pieces. This feature not only helps prevent clogging, but it also makes cleaning easier.
Aside from its easy disassembly, we were impressed that all of its components are dishwasher-safe. You can easily just pop them in your dishwasher and wait for them until they get clean. This feature leaves you more time to enjoy the day than spending hours in the kitchen and manually cleaning them.
Also, the Aicok Slow Masticating Juicer already comes with a cleaning brush, so you don't have to buy it separately.
Let's watch a video now
Frequently Ask Questions: FAQs
We know you still have a lot of questions about this product, so we've taken the liberty to answer the frequently asked questions as well.
What can you smashed with the Aicok Slow Masticating Juicer?
The Aicok Slow Masticating Juicer can work with a variety of fruits and vegetables. Whether you're planning to juice a dense apple or leafy greens, you can definitely achieve your desired outcome with this juicer.
However, we recommend slicing them into more manageable pieces so you can easily push them down the feeding tube. Also, we recommend taking the seeds out and avoiding using frozen fruits for juicing.
What is a slow masticating juicer?
A slow masticating juicer, otherwise known as an auger juicer, is a machine that produces juice by crushing the produce and then pushing them into a sharp screen to create the juice. This allows it to keep as much of the flavor and nutrients as possible, leaving you with a healthier drink than when you're using a fast juicer.
Is there a difference between a slow masticating juicer and a centrifugal juicer?
While both of these juicers look the same, there are several differences between them. These differences are:
A slow juicer runs at speeds of less than 100 RPM, while a centrifugal or fast juicer runs at speeds of 1,000 RPM or more.
A slow masticating juicer extracts juice by crushing the produce first, while a centrifugal juicer slices the produce before turned into juice.
Because of the different ways of juice production, slow juicers leave less food residue, making it easier to clean.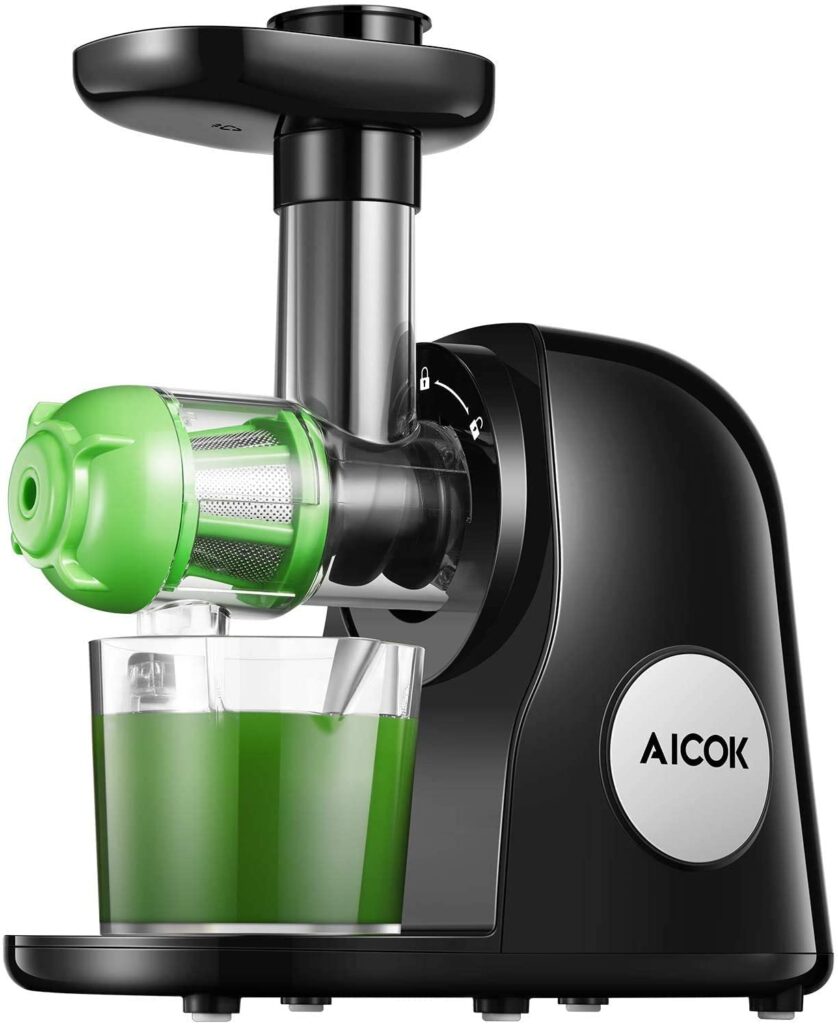 Is the Aicok Slow Masticating Juicer easy to assemble?
Yes, the Aicok Slow Masticating Juicer is one of the easiest juicers to assemble. All its components easily lock in place without the need for tools. This makes it easy to assemble, even if you have no experience in assembling kitchen appliances.
Final Thoughts
After this comprehensive Aicok Slow Masticating Juicer review, we must admit that we are quite impressed with this product. Not only does it provide us with healthy extracted juice, but it was also built for our convenience.
It has the ideal 80 RPM speed that helps extract as much juice as possible without allowing it to oxidize and lose its nutrients. And since our main goal is to stay healthy and take in as many vitamins and nutrients as possible, we can't deny that this slow-masticating juicer is perfect for everyone.
Whether you're a seasoned juicer who may want an upgrade or someone who's completely new to juicing, we guarantee that the Aicok Slow Masticating Juicer is worth the investment.